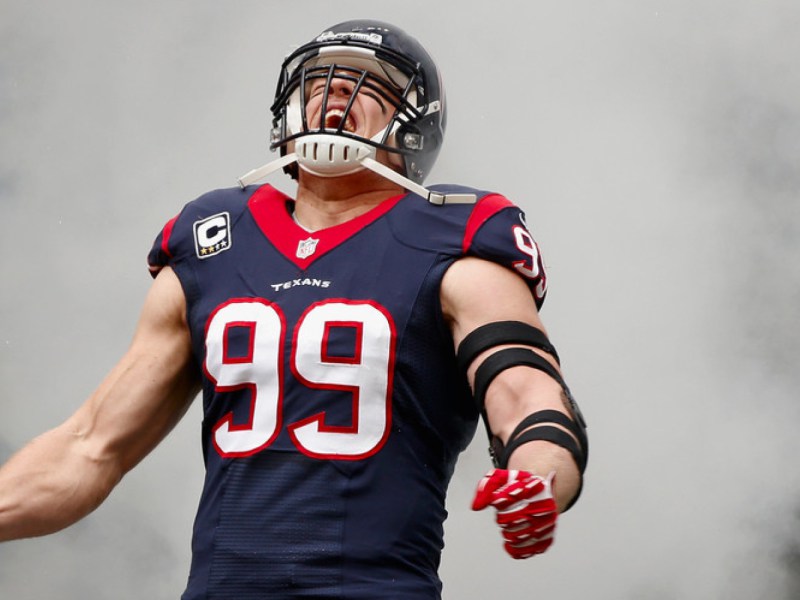 ---
MOST VALUABLE PLAYER: J.J. Watt
Through four games this season, Justin James Watt has been the most valuable and dominant player by far. Watt has recorded 16 hits on quarterbacks so far this season, which is more than 15 teams. 9 of these hits came in week 4, against the Buffalo Bills.  Per Pro Football Focus, Watt has 31 total pressures (a combined statistic of sacks, hits, and hurries) which would rank inside the top 20 of all 3-4 defensive ends in 2013. So through four games, Watt is already more statistically productive than most of his peers were for all of the 2013 season.
The Texans also have a favorable schedule for their defense, specifically J.J. Watt. With match-ups against porous offensive lines such as Philadelphia, Pittsburgh, Jacksonville (twice), and Indianapolis (twice). Watt also has a pick-6 that was glorious. Watt also earned the nickname of J.J. Swatt for a reason. He's also doing this while other teams are game-planning to specifically eliminate the impact he has on the game.
The only thing that Watt has going against him is history. Only two defensive players in the history of the National Football League have ever won Most Valuable Player, (Lawrence Taylor in 1986, Alan Page in 1971). However, in the 28 years since the last defensive player has won the award, there hasn't been a player quite like J.J. Watt, nor has any defensive player been nearly as dominant as Watt has been.
OFFENSIVE PLAYER OF THE YEAR: Philip Rivers
Who doesn't love a guy that wears a bolo tie after every win? Rivers has been the best quarterback in the league this season, and it isn't close. Take a look at Benjamin Allbright's Complete QB metric system. Allbright says that a number over 130 suggests the quarterback is carrying his team to a degree.
Philip Rivers' complete quarterback rating? 182.63 through four games.
DEFENSIVE PLAYER OF THE YEAR: J.J. Watt
*see above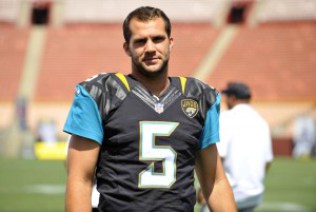 OFFENSIVE ROOKIE OF THE YEAR: Blake Bortles
Blake Bortles does not have a large body of work yet, but the mere fact that the Jacksonville Jaguars were able to move the ball somewhat efficiently on offense against the Chargers. Bortles completed 29 of 37 passes for 253 yards. Bortles' 78.4 completion percentage set an NFL record among rookies who threw at least 30 passes in their first start. If Bortles can remain efficient and the Jags can win a few games, then Bortles should be a lock for OROY.
DEFENSIVE ROOKIE OF THE YEAR: Kyle Fuller
Ranked by many as the top cornerback of the 2014 NFL Draft, Kyle Fuller sure is playing like he should have been. Drafted 14th by the Chicago Bears, Fuller has filled in very nicely for the injured Charles Tillman, especially in week 2 versus the San Francisco 49ers. Fuller intercepted 49ers quarterback Colin Kaepernick twice in the 4th quarter and earned NFC Defensive Player of the Week honors. The following week, Fuller channeled his inner Peanut Tillman and forced two fumbles vs the New York Jets.
The DROY of the year race is one that will be highly contested until the end of week 17, as star rookies such as Jadeveon Clowney and Ryan Shazier are due back from injury in several weeks.
COMEBACK PLAYER OF THE YEAR: Sean Spence
After a devastating knee injury in the 2012 preseason, Sean Spence was told it would be a miracle if he ever played another snap. He's been a stud on special teams. And Spence started his first regular season game in week four vs the Tampa Bay Buccaneers. That's good enough for me.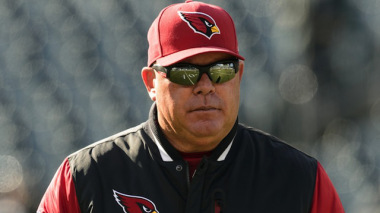 COACH OF THE YEAR: Bruce Arians
4 weeks into the season and only two unbeaten teams remain: the Cardinals and the Bengals. Arians has gotten his team to 3-0 without key pieces such as quarterback Carson Palmer, defensive end Darnell Dockett and Daryl Washington.
Yet, Arians has the Cardinals atop one of the toughest divisions in football and they look like they are the team to beat in the NFC. Plenty of weapons, such as Michael Floyd, Larry Fitzgerald, and the emergence of rookie John Brown on offense have helped to absorb the loss of Carson Palmer.
But above all else, the Cardinals have been a very disciplined and well-coached team. Bruce Arians is to thank for that.
---
---