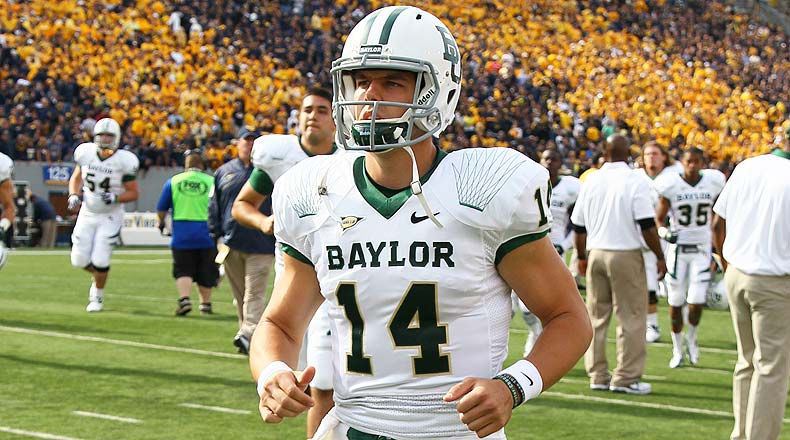 ---
We are now one-third of the way into the college football season. According to my Twitter timeline, Tom Brady is only a few weeks from taking over the University of Michigan head coaching gig. And while scorching takes have been flying since Week 1 of the season, I've been charting the quarterback prospects for the upcoming draft class.
It seems as though each week I ask myself why I do so, though, as more and more it feels like a vast majority of the prospects some loved in the preseason aren't going to be selected. Nevada's Cody Fajardo, Duke's Anthony Boone, Southeast Louisiana's Bryan Bennett (an Oregon transfer), and East Carolina's Shane Carden: I just don't see it. Taylor Kelly, who some compared to Russell Wilson, was the most overrated senior heading into the season, is hurt. I would venture to guess that the media will spin that into why his draft stock is falling, but don't get it twisted. He wasn't a big NFL guy at any point.
The most disappointing study has been Chuckie Keeton's season so far. The senior out of Utah State has intrigued since his first season in Logan. After an injury ended his 2013 season, which included an amazing performance against the Utah Utes, he's again banged up this year. A preseason NFL scouting service didn't even include Keeton on their list of over 300 seniors. Ahead of him were quarterbacks such as Cole Stoudt, who has since been benched at Clemson, and Ryan Williams, who is injured and hasn't played a snap at the University of Miami.
It's safe to say his draft stock is officially dead. This week, rumors even surfaced about him taking a medical redshirt. The 6'1″ 200-pound quarterback might play college football in 2015 with one of my other preseason favorite seniors, Braxton Miller.
Enough on what's wrong with this senior class, here's the top five players on my list based on 2014 viewing.
#5 Sean Mannion-Oregon State 6'5″ 220
The strong-armed, tall passer in Corvallis is going to interest NFL teams, but likely at a degree too high for my liking. Mannion to me is a late round quarterback, but with his size, arm, and pro-offense background, I could see someone falling in love. For one scouting service, he was a top-ten senior heading into the season, over some players the media had ranked as first rounders.
His elongated motion scares me, and he clearly misses the Markus Wheaton and Brandin Cooks-type talents he had to throw to in the previous Beaver seasons. If the inconsistencies from his San Diego State and Southern California matches continue to show up throughout 2014, Oregon State may have a bottom-three record in the Pac-12.
His plant leg is going to be an issue, preventing his hips from continuing momentum and limiting his ability to stand straight in the pocket. He reminds me of the junior season version of Zach Mettenberger, which wasn't pretty.
#4 Bo Wallace-Ole Miss 6'3″ 203
Dr. Bo is jekyll and hyde. There's a Good Bo and a Bad Bo. Four game into his season, his performances are split 50/50. He can clearly spin the ball, but he puts a lot of stress on his throwing shoulder. Compounded with some inconsistencies on even short passes, he's no safe bet to even survive the NFL on his rookie contract.
He has a shot, though, and that's more than I can say about a lot of these passers. His ability to throw a deep ball with nice placement and velocity is impressive, but that happened on only 8 of 15 deep attempts in his first three games of the season. His game against the University of Alabama this week should be a nice measuring mark.
He's a mid-to-late third day selection at this point.
#3 Blake Sims-Alabama 5'11" 202
Surprisingly, Blake Sims, a player many had backing up Florida State transfer Jake Coker heading into the season, has performed to a high level up to this point. In the intermediate range (11-19 yards past the of scrimmage) from the left hash to the right sideline, Sims is a perfect 17/17 four weeks in, including a 6/6 mark against the University of Florida.
He's able to move around and manage the game with some plus tools. His issues at this point are a windup, wide base, and back rock on deep throws, and he has some limited issues with controlling his passes on the move. If nothing else, he'll get a look at the next level as a running back. The way he's able to flip his back to rollout in the opposite direction than he was previously facing has only been matched by my eyes with Michael Vick and one Johnny Football as far as quarterbacks are concerned.
Currently, I'd think about taking him as early as mid Day 3 of the draft.
I was a year too early on Bridge, cutting his Alcorn State film hoping that he'd breakout in 2013. Instead, South Alabama decided to play a senior lefty in their first Sun Belt season. When watching Bridge, you immediately become amazed with his tools. From that aspect, he's truly not too far away from future #1 selection Marcus Mariota. He's not nearly as polished as the Oregon prospect, though.
Bridge makes some bad decisions, but there's clearly something to work with there. With only four games under his belt as an FBS starter, I'm sure someone in the league will allow him to sit and attempt to build him up from a QB3 or QB2 spot over a couple of seasons. CBS's Dane Brugler and NBC's Josh Norris are also coming around on Bridge.
I would think about taking "Air Canada" as early as third round, but he's probably going to be a Day 3 selection.
He is who he is. Bryce Petty had some unwarranted first round hype last season, but returned to Baylor for another season after sending his evaluation into the draft advisory board. Of everyone on this list, he's the only quarterback who's going to be over 23 and one-half years old on draft day, assuming it's around May 8th, like last season.
Petty has a quick release, has a stout frame, and has good enough tools, but misses even on the wide-open deep ball. Against Buffalo and SMU, while fighting off a minor injury, he was 8/17 on the 20+ ball. Last season, against Big 12 competition, he had an on-target accuracy mark of 33/64, meaning 49% of his passes were off-target.
Outside of the deep ball, he's the most consistent quarterback on the list and might be able to be a game manager at the next level. On third-and-seven+, though, he's not going to be the quarterback you want on the field. He can be a solid backup or a stopgap starter, but he's clearly peaked as a college thrower and shouldn't give you much more than that. If I needed one of those, I'd take him in the third round.
Editor's Note: Ready to try daily fantasy sports to win cash? DraftKings offers daily fantasy sports for the NFL, MLB, NBA, NHL, and even the PGA.  When you sign up today, you'll get a 100% deposit bonus and a free entry into one of their fantasy football contests when you use the promo code 'SAVAGES'

---
---
---