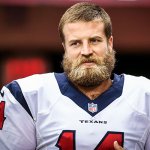 ---
First off, I'd like to wish everyone reading a happy Festivus, as it is December 23rd. If you're not familiar with the Holiday, it gained mainstream notoriety (IE: all of its popularity) through the classic Seinfeld episode: The Strike. One of the Festivus traditions is the "Airing of Grievances", where you tell your loved ones how they have disappointed you in the past year.
I love the NFL, so it's only right that I honor the traditions of this great holiday and tell all 32 teams how they have disappointed me in the past year. I want you all to join along on twitter with the hashtag #NFLAiringOfGrievances if you feel so inclined, and to encourage it further, all of my grievances will be tweet length. Some teams will just get more than others.
I'll be using the draft order because it seems like a good idea to get all this vitriol out of my system before I get to the actually good teams.
Here we go.
1. Tampa Bay: I guess it's tougher to come back from MRSA than I thought, especially when your entire franchise gets infected.
How do you lose so much with Gerald McCoy and Lavonte David on your defense?
At least you're going to end with Marcus Mariota, even though Jameis Winston won the Heisman Trophy lobbing up jump balls to Kelvin Benjamin, and that should be your offense with Mike Evans and Vincent Jackson.
2. Tennessee: I'm going to do my best to not attack anyone's livelihood since it's the holidays, but hiring Whiz was literally one of the only moves that was worse than keeping Munchak.
Seriously. Press the reset button and start over. Your fans didn't abandon your during this atrocity of a season, and things really can't get much worse. They don't deserve this.
Also, I will never forgive you for ruining Jake Locker. (You should have expected this was coming. The streak of articles where I mention Jake Locker is probably at 6 straight, at least)
3. Jacksonville: You picked the wrong quarterback. We should have experienced Johnny Duval and had inflatable swans in the pools. Speaking of pools…
Take out the seats under the other scoreboard and build a community pool with inflatable rafts so you can fit a couple hundred into a massive pool and set unintentional world records. Also, so my friends don't have to spend thousands for a pool experience.
Next year is finally your year… I think. Let me check with this copy of Gray's Sports Almanac to see (Go Cubs!)
4. New York Jets: You're the best 3-12 team ever, and don't ever forget that.
I really don't have much else to say. I'm no longer filled with rage when I think of the Jets mistakes, but it's been replaced by apathy. So, thanks.
#FreeGeno
5. Oakland: You hired a coach who BURIED A FOOTBALL ON YOUR PRACTICE FIELD FOR SYMBOLISM. DO YOU KNOW WHAT PRECEDENCE THAT SETS?
Seriously. Grown men, burying a football, and it kind of worked. Now, every high school in the country is going to bury a football whenever they have a bad stretch of a season.
You have the same chance of getting Harbaugh as Eric has of running into Anna Kendrick at a local 7/11, falling in love, and then subsequently hooking me up with J-Law. Heard it here first.
6. Washington: Change the damn nickname already.
7. Chicago: If we're being honest, you guys ended up around where you should considering all of the defensive injuries you had, but you created too much false hope.
Marc Trestman seems like a nice guy (and all the Marc with a C's I've met are all cool in my book) and is going to be a great OC when you guys clean house.
Maybe spending some picks on the trenches last year would have been a good idea. You guys are historically awful at drafting though (even though Fuller is good)
8. Atlanta: I'll never forgive you for ruining Hard Knocks.
9. Minnesota: Why exactly didn't you start Teddy from day one? Seriously, it looked dumb now, but in hindsight, it was even worse of a decision. He's your future.
IS IT REALLY THAT HARD TO FIGURE OUT HOW TO GET THE BALL IN CORDARRELLE PATTERSON'S HANDS? ANY. MEANS. NECESSARY. SHOULD. BE. THE. MOTTO.
Go forth and pick a litter of WRs in this upcoming draft that actually fit Teddy's skill-set (and keep Adam Thielen around) and you won't get a single grievance next year.
10. New Orleans: The only thing better than Jimmy Graham the Decoy is Jimmy Graham the receiver but A+ for at least trying the former for a few weeks.
Thank you for providing the ceiling for Cap Hell. Now, I don't have to wonder what it would be like if a team couldn't sign their draft picks.
If you're going to keep spending high picks and top dollars for pass catching weapons, maybe you shouldn't be paying your "Top Flight" QB beaucoup bucks to get them the rock. It's not exactly a tough job.
11. New York Giants: You fully unleashed Odell Beckham Jr., so you're given a free pass for anything you've done over the year. Next year, retire Brandon Jacobs' #27 and that will remain the same.
12. St. Louis: It's too bad you lost 9 games. Jeff Fisher is usually guaranteed to lose no more (or less) than 8.
Also, the way you handled the "Hands Up, Don't Shoot" was kind of cowardly. Get better.
13. Cleveland: If the current offensive staff doesn't know how to utilize Sir Johnathan F. Football I, it's time they became your former offensive staff.
Seriously, it's not their job to run their scheme and bitch when players don't fit. It's their job to adapt their scheme to let their playmakers shine and score a ton of points.
14. San Francisco: You're the Jailblazers of the NFL right now, except it's even worse because you're trying to help cover up heinous crimes with crooked law enforcement. Mad lucky Elliot Stabler retired from the SVU.
In some ways, I respect you for going all in and gambling tomorrow for today, because most teams don't have the cahones to do the same.
In other ways, that probably wasn't the best idea, but Stanford got better when Harbaugh left, maybe the same will happen with y'all. (Probably the case, there's a reason he isn't anywhere for more than a few years)
You owe the world some Carlos Hyde, Frank Gore, and Colin Kaepernick triple option plays that we didn't get enough of. Jerk move.
15. Houston: The fear of JJ Watt forced me to delete any selfie I ever took off my phone.
You hired an offensive "guru" who just decided he wanted to lead the league in rushing attempts like most guys touted as a "Quarterback Whisperer". I'm on to your tricks.
Seriously. Bill O'Brien, Mr. QB Arm Talent, sought out two behemoths who can launch the ball like a jugs machine, and ends up starting Case Keenum and Ryan Fitzpatrick a combined 14 of 16 games.
16. Buffalo (Pick belongs to Cleveland): If I was smart, I would have had @TheStreetFA to write this blurb, but I didn't think ahead.
Next year, the playoff drought might finally end. Until then, you have have been through enough.
17. Kansas City: Your playoff hopes rely on the Jaguars and Browns beating the Texans and Ravens, respectively, because that's what happens to teams that have lost 4 of their last 5.
That Alex Smith contract was still really, really stupid, and you don't have anything set in place with Justin Houston, who has been a legit D-MVP candidate.
Meanwhile, Andy Reid refuses to run the football, in historic Andy Reid fashion. SINCE DEFEATING THE SEAHAWKS, THE CHIEFS ARE 2ND TO LAST IN RUSHING ATTEMPTS. BETWEEN CHICAGO AND TAMPA BAY! THAT IS WHO YOU ARE.
But this is because Alex Smith doesn't have any weapons or because THE BEST WEAPON YOU HAVE IS WATCHING THE TEAM THROW SCREENS TO ANTHONY FASANO.
Follow @SullyFootball for his Chiefs airing of grievances.
18. Miami: I have no idea why the Dolphin in your new logo doesn't have a helmet on and the previous ones did. Once I realized that, it ruined the new logo for me.
#NFLFansWhoDontReallyCareAboutTheDolphinsButDoCareAboutTraditionAndDolphinConcussionSafety
19. Baltimore: Steve Smith's war on couches is really dumb. People on couches write chill articles like this. People with offices-in-converted-bedrooms-with-their-high-school-jersey-on-the-wall write the mean things you don't like, Steve.
"Sorry, son. You're going to have to share a room with your little brother for a little while longer. Yeah, I know it's tough, but I can't write my slideshows on the couch like some neanderthal. Now go get ready for dinner."
(Shoutout to Matt Miller for his amazing weekly scouting notebooks that come in article form so I can make slideshow jokes again and not feel bad in the slightest.)
Also, Ravens, you guys handled the Ray Rice thing very, very poorly, but so did everyone else involved besides Ray Rice, who took responsibility for his actions. So ironic.
Should have never let Torrey Smith cut off his dreads, since he went from a 4.3 to a 4.45 40 when he left the barbershop that fateful day.
20. Philadelphia:
The following is written by Spencer (@SDG2635) and it is better than anything I could have come up with:
Oh Eagles fans, where do I even begin? After winning the offseason Super Bowl, you surely were going to win!

— Spencer (@SDG2635) December 23, 2014
Foles, Matthews, Chip. I thought those arguments were a revolving door of anguish. Little did I know, your season would end so lavish(ly).

— Spencer (@SDG2635) December 23, 2014
Banished from the playoffs. Was this real life, or chaos? "Innovator!" the crowds shouted. Only to end up being the same ones that pouted.

— Spencer (@SDG2635) December 23, 2014
Sproles. Cox. Maclin. Stars emerged from the depths. If only it weren't for Sanchez, who was horribly inept.

— Spencer (@SDG2635) December 23, 2014
Eagles, oh Eagles, you impressed me so much. Another year for "innovation", and certainly your head coach will do as such.

— Spencer (@SDG2635) December 23, 2014
the end

— Spencer (@SDG2635) December 23, 2014
Such a festive poem.
21. Carolina: Cam Newton doesn't have a #1 WR, he has a #2 in Benjamin and then 5 #6 WRs. You should be ashamed of yourself.
Seriously, the only thing worse than the WR group is that offensive Offensive Line. It's like you're playing Civilizations and got your capital city and decided to only move resources to your other cities that were doing fine to begin with.
It might be time to move on from your 2 RBs that haven't been a good pairing since the late 2000s. But that's just me.
#ProjectCam
22. San Diego: No qualms here. No idea how you don't have baller free agent signings every year but that's just me.
Sidenote: Could you imagine what Eli Manning's career would have been like if he was in San Diego opposed to New York? Not in terms of W/L, but in terms of taking him out of a media frenzy and putting him on the southern coast of California where things are much more laid back. That would have been wild. Maybe he throws less picks.
23. Cincinnati: That Darqueze Dennard pick makes even less sense now than it did then. Yeah, he fits your scheme to a T, but so do the other 4 corners ahead of him.
In one year, if you haven't bought Tavon Austin or Cordarrelle Patterson for pennies on the dollar from their respective creative prisons, we'll have beef.
24. Arizona: Building an offense around Carson Palmer and Andre Ellington is like building a gingerbread house with really soft brownies instead of gingerbread. You know it's going to fall apart but if it doesn't you have the best house on the block.
You should have known better, but I can't blame you. Wish more people went with this approach instead of playing it safe, because that would have been a delicious brownie house.
What a tease.
25. Pittsburgh: Doing my diligent research, I realized you lost to Tampa Bay, Cleveland, the Jets, and the Saints, so I don't really understand you entirely, because you don't have Andy Reid calling your plays…
Oh, hi Todd Haley. Things are making sense now.
If anything, I'm really disappointed in Pittsburgh media for not pushing the headline "For Whom The Bell Tolls" after every game. I'm sure my other pun-enthusiasts agree.
26. Indianapolis: Is Andrew Luck a train conductor in the offseason? How does he feel about the advent of the speed rail?
Oh, also, he's overrated. You guys have protected him by funneling countless (well, countable if you aren't lazy) weapons and leaving no stone left unturned, but he's only improved by the sum of his additions. If he even has.
In short, congrats on creating the John Cena of the NFL, and enjoy the perpetual 11 win seasons, but you're still never going to be as good as you once were as a franchise, just ask WWE's shareholders.
Also, Jim Irsay should have been suspended a whole lot longer than Ray Rice because of all those prescription drugs and the 29k, but owners won't go after one of their own or something.
27. Detroit: This is for all Calvin Johnson fantasy owners: JUST THROW UP FADES ANYTIME YOU'RE INSIDE THE 20! IT'S MEGATRON! HE'LL CATCH IT!
Also, you haven't beat a playoff team since week 3, and that was your only one. (Note, Colts haven't beat one since week 7, but at least they've defeated two)
28. Dallas: You're supposed to be the Jeff Fisher of franchises. Why aren't you 8-8?
29. Green Bay: I need more Eddie Lacy touchdowns to survive. He's the closest thing the league has to my boy B Jacobs and the league is fiending for another great physically imposing speed back.
Jordy Nelson doing so well is not very good for the internet overall, as there are corners of the internet filled with racist white people that think there is a caste system holding down white receivers.
Seriously, they site Jordy's success not as "Jordy playing well" but instead "a white WR finally given an opportunity to showcase what they can do". If GB wins, so does racist white people.  Enablers.
30. Denver: Pick plays are still against the rules, even if they don't get called every time.
31. New England: Brady without Gronk is still washed. Check the film. When Gronk is out, Brady looks lost. Just come out and admit this, Belichick.
Also, if it comes out years later that Belichick used Tom Brady's wife's exotic supermodel friends to infiltrate and spy on opposing teams by seducing opposing players, I would not be shocked in the slightest. Spygate 2.0, admit it now Bill.
32. Seattle: For a couple weeks you thought it was Russell's offense, and not Marshawn's, and I'm still really nervous that could happen again. This team is a running team.
Also, thanks for trading the second most exciting player to ever put on a Seahawks jersey (behind Marshawn, of course) because you couldn't figure out how to use him.
Join in on the fun (or therapy) on twitter with the hashtag #NFLAiringOfGrievances and be sure to have a safe "Feats of Strength."
Happy Festivus, from the rest of us.
---
---