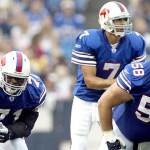 ---
At times hailed as the "best left tackle in pro football", when the Buffalo Bills traded Jason Peters to the Philadelphia Eagles in 2009 for draft picks, it was considered by some to be a "franchise-ruiner" for Buffalo. And yet, just one short year later, Bleacher Report swung the pendulum the other way and stated that Buffalo had "won" this trade.
Despite these reports early on, many believe it takes a minimum of three to five seasons to properly review a trade or draft class, and now, 5 years later, I want to go back and review one of the most controversial and eye-opening trades in recent years.
At the time, Philadelphia was in need of a Left tackle, as franchise cornerstone Tra Thomas had just left in free agency to sign with the Jacksonville Jaguars. Armed with the 21st and 28th overall picks in the 2009 NFL draft, their options were slim in that regard, with the top offensive tackles projected to be on the board at the time the 21st overall pick came around were Baltimore Ravens disappointment Michael Oher and journeyman Eben Britton, while the top overall players projected to be available in that range were star wide receiver Jeremy Maclin and All-Pro center Alex Mack. With their options slim in that regard, Philadelphia turned toward the trade block, and came to find that 2-time Pro Bowl LT Jason Peters, who was in a contract stalemate with Buffalo, was available for the right price. After lengthy negotiations that included preliminary contract extension talks, Philadelphia sent Buffalo the 28th overall pick in 2009 it had received from Carolina, their 4th round pick in 2009, and a 2010 6th round pick.
In return, the Eagles received the man whom Andy Reid gushed over as "the best left tackle in football", who quickly signed a 4-year, $53 million dollar extension with his new team.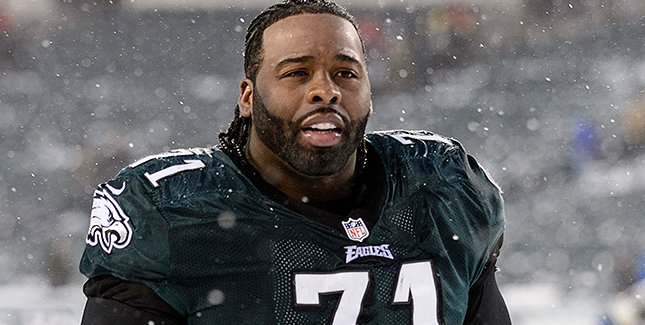 After receiving 3 picks, including a first-round pick, 28th overall, Buffalo seemed to be sitting pretty in the draft, having the #11 overall pick as well. Many expected them to draft another tackle, as Langston Walker wasn't seen as a viable long-term option at left tackle, and the top-3 available were Baylor's Jason Smith, Virginia's Eugene Monroe, and Ole Miss' Michael Oher. Come draft day, The Bills decided to shock quite a few people and take Redshirt Sophomore defensive end/outside linebacker Aaron Maybin, who turned out to be a magnificent bust, at #11 overall. Despite this, as the 28th overall pick neared, Buffalo had hopes that Michael Oher would drop to them. Instead, Oher was picked at 23rd overall by Baltimore, and the Bills were left scrambling. Intent on taking an offensive lineman, they nabbed top center prospect Eric Wood from Louisville. As the 4th round approached, Buffalo had produced a solid draft, albeit one lacking any tackle prospects.
Despite this, they decided to go out and draft the top tight end on their board in Shawn Nelson, a productive collegiate player who wowed at the combine. The following years draft with the final pick Buffalo received from Philadelphia, they chose South Dakota State outside linebacker Bryce Drake, who I can find absolutely no information on.
While it seemed to be a fair enough trade at the time, it's easy to see now that the Eagles won greatly in this trade. The Bills flipped the Eagles picks into a slightly above average center with injury issues, a tight end who lasted less than 3 full seasons with the team, and a small school linebacker I'm not sure even made it into camp. In return, the Eagles gained a franchise cornerstone and one of the top offensive players in the game regardless of position, and a player who has helped turn the Philadelphia Eagles into an offensive powerhouse. A player tailor-made to the Chip Kelly offense that utilizes his upper tier athleticism and nastiness to an extreme, Peters has quickly turned himself into a potential hall of Fame candidate. To be fair, one offensive lineman does not a team make, but while it was just as much a win for Philly, it was also a major screw-up by the Bills Front Office.
Squandering valuable trade assets in a move that gets rid of the best player on your team can set a franchise back years, and while hindsight is 20/20, the moves were questionable at best, and are part of the reason the Buffalo Bills are a team floundering in the current of the NFL.
---
---
---