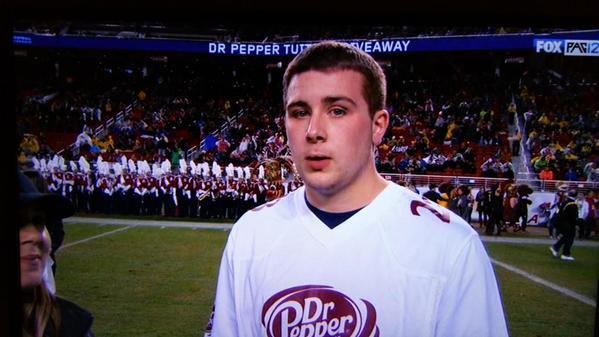 ---
Look, the most fascinating part of the Pac-12 Championship last night, other than Arizona's center yacking pre-snap in an homage to former Wildcat quarterback Matt Scott, was the Dr. Pepper Giveway.
The giveaway, a passing competition which gives out a total of $120,000 in scholarships to the two participating college students, has evolved over the years. For instance, Dr. Pepper's official Twitter account currently boasts a header of a student throwing the pigskin in the traditional way: Overhand. We saw none of this on Friday.
Instead, we witnessed two young adults go head-to-head in a chest passing competition. My question is this: How in the world is this relevant or entertaining to football fans anymore?
There have been a couple of suggestions and alternatives that I've seen. The first one I'll bring up is the easiest; Just move the damn cans back. I mean, it's only five yards out currently. I understand we need to have a playing field which everyone could join in on without completely embarrassing themselves on a national stage (eat it, 'Zona,) but just by moving the target back say to eight to ten yards out, the function of heaving a football from one's sternum would diminish.
I'm not opposed to working within and abusing the rules you've got (God damn, I'm an Oregon fan after all,) but this is no longer worth the time to watch. Get it together, Dr. Pepper. This is a variation of a punt, pass, and kick competition, America's tenth most popular sport behind only actual football, basketball, baseball, hockey, soccer, lacrosse, beer pong, eating competitions, and trolling Florida State fans.
If we don't stand for this, what do we stand for?
If nothing else, let's just force people to throw overhand. This isn't that hard. The least Dr. Pepper could do, though, is have the participant's Twitter handles on the back of their jerseys like the NBA did with nicknames.
If Troy from Alabama is going to lose while granny shotting passes during the SEC Championship Game on Saturday, he should at least get some flack for the $20,000 runner-up prize.
Georgia's Todd Gurley had to go through a suspension, a torn ACL, and his fair share of  media scrutiny for similar value.
ESPN employs Tim Tebow. You're telling me the merit of finding the next Odell Beckham, Jr. isn't worth having Tim throw a couple wild passes on ABC during the ACC Championship Game? I promise you a viewer spike.
Also, Dr. Pepper can just shell out 120 K for a couple seconds of sub-par passing? It's hard for me to imagine I live in a world which this exists, and we can't pay college players, even if it takes a Mountain Dew logo on a Crimson Tide jersey.
(Speaking of jerseys, the NFL has teamed up with the NCAA to release some. Not a cartel, though.)
I was going to chart the passes, but I just didn't have it in me. The thought of re-watching the destruction of this once proud country was too much to get past. Also, Alfie.
It's time to boycott passing challenges until the people's voices have been heard.
Update: Overhand throwers are now 1/1 this season. Zabrina is on a one woman mission to save us from our previous sins.
We did it, @FootballSavages. RT @LordDraftnik@JuMosq OVERHAND THROWS

— Justis Mosqueda (@JuMosq) December 6, 2014
Update 2: America is dead again. A former high school quarterback won with pitches instead of throws. Diego, the other competitor, went full granny shot. We're done here. Only the Big Ten can save us at this point.
We're back to terrible Dr. Pepper Tuition Giveaways. Forgetting the overhand is undefeated.

— Arif Hasan (@ArifHasanNFL) December 7, 2014
Update 3: We build a monument of Zabrina.
---
---