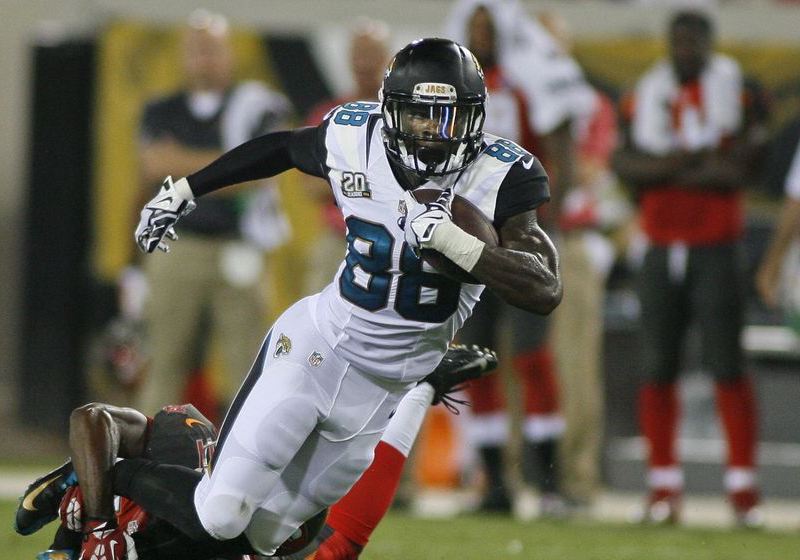 ---
This post really should be called, "Beware of Chasing Points on the Waiver Wire: The Allen Hurns Story." But that's wayhayhay too long for Twitter, SEO, and such. And that's neither here nor there.
One thing I find myself doing each season, no matter how many times I remind myself not to do it, is getting caught up with a player that has a breakout performance. So you pick up said player on the waiver wire and he ends up having either just an ok performance or is complete dog shit. You may or may not decide to hang on to that player for a week or two before cutting him for another then breakout player, only to repeat the process again and again until maybe you hit on a player that becomes a productive starter, or even a fantasy stud.
This pattern isn't all that different than a day trader chasing stocks that rise sharply only to plateau and he either makes minimal gains or you loses his shirt. Don't be that guy. That guy might cost you a playoff berth and a shot at pretend football immortality. Also, if you're in a real money league that charges per transaction, or you're in an auction league for purposes of waiver moves, prospecting from week to week like this can start getting pretty expensive.
Remember… the name of the game is buying low and selling high to maximize profit… I mean value.
This week's biggest candidate to be one such flash in the pan is Allen Hurns, who had a huge breakout performance in Week 1 at the Eagles with 4 receptions, totaling 110 yards and 2 TDs on 9 targets.
Not a bad way for the "undrafted rookie free agent" out of "The U" to break into the league. But remember what I told you guys last week… players who didn't dominate in college don't usually dominate in the NFL. So just to the left is a brief scouting report on Hurns via NFL.com.
Often injured, poor route runner, average burst… So how did he breakout against the Eagles? Maybe the Eagles secondary is terrible; maybe they flat out overlooked or underestimated Hurns. Chances are it's a little of both.
Also remember the Jagoffs projected starters, Cecil Shorts and Marquise Lee were both a little banged up with Shorts not playing last week.
Now that's not to say that Hurns can't somehow develop into a quality wide out at the pro level, but it's HIGHLY unlikely.
OK, enough on Hurns. That's just an example but it's the theme that's important as Hurns will almost certainly be one of the most added players in fantasy football this week. In fact, let's take a quick look at roster trends per CBSSports.com. Why CBS Sports? Because that's where I have my home league and I'm lazy; so sue me…
The players with an "*" are ones I believe may be available in most leagues with enough upside to warrant you picking them up. I won't get into too much detail as to why but in short, they're either proven players or the primary option at their respective positions on an offense that will make use of them. One I'd like to highlight is Bernard Pierce.
While many have picked up Justin Forsett as the likely replacement for shit bag Ray Rice, I believe Bernard Pierce will eventually get the lion's share of work. Pierce has always performed well when given the chance. He's also the more powerful of the two backs still employed by the Baltimore Ravens so you can expect him to get the majority of goal line opportunities. I expect Forsett will see plenty of work but more likely as a change of pace back or to spell Pierce for maybe a third of the snaps. Plus… dude is a seriously stylish motherfucker.
Look… I know it's tempting. You want to find that diamond in the ruff off the waiver wire that'll give you an edge over other teams. And you very well may… but remember, you're only trying to supplement your roster off the waiver wire, not make it. And a little sensibility can go a long way to taking your roster to the next level.
---
---
---