---
Tom Terrific, coming off his best game of the year and bringing his 22-2 career record against the Bills into Buffalo this weekend. Fuck him, Fuck him in the other ear. I expect the Bills faithful to wreak havoc on butt-chin Brady throwing him off his game just enough for Marcell and company to get medieval on his ass.
More from the Street Free Agent: EJ MANUEL AND THE JACKASSERY OF THE BUFFALO BILLS
This isn't going to be a pretty game, this isn't the same Bills team that Brady has shit on for the past 10 years. Sure we've all heard how this isn't the same old Bills, but this time it's true, I think, at least as far as the defense is concerned. Of course we all know that Belichick is a coaching genius and will game plan the fuck out of this game, but a great man once said, everyone has a plan until they get punched in the mouth. The Bills defensive line is going to uppercut the fuck out of the Patriots OL like their name was Glass Joe so Tommy Haircut better have his dancing Uggs laced up tight cause he's got a date with the NFL's leading sack getting sackers (who writes this shit, and fuck the Jets they don't count as a team IMO).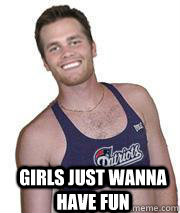 So what have you learned so far besides the fact that Tom probably does the two-step, not that there's anything wrong with that? Well I'll tell you what you've learned or at least what you should have learned if you were paying attention and not searching for foot porn you fucking degenerates. You have learned that the Bills are going to eat the Patriots OL for lunch and probably create a 2nd butthole for Tommy to shit out his organic breakfast. I said it's going to be ugly so don't turn your nose up at me when I give you the details.
What about the Bills offense you might ask? Well I ask that question too, mostly cause Nate Hackett calls plays with the same thought that I answer my bosses questions when I'm fighting a mad case of the whisky shits, the bathroom is just around the corner, and all I can hear is the gurgling of my dignity trying to escape my body in the most furious explosion since Hiroshima.
With that being said the Bills have a QB that ranks pretty fucking high on the gives no fuck meter so you can rest easy knowing Kyle Orton and that glorious porn 'stache will chuck it and fuck it with reckless abandon. There's also Mr. InFREDible, ankle injury or not that gladiator will play and by the power of greyskull will punish some dudes. As for CJ Thriller, who the fuck knows. Nate Hackett still can't figure out how to use on of his most explosive players. Fuck You Nate, fuckface.
Look I have no idea what I've said, but I've some things that probably matter in the long run.
Fantasy projections? Why the fuck not.
QB – I expect both Brady and Orton to have similar fantasy production…. Middle of the road.
RB – Vereen over Ridley cause his pass catching and not fumbling skills. Fred over Spiller cause Nate Hackett is a cunt.
WR – Edelman cause who the fuck are those other dudes that keep not doing things, Belichick may be a genius but he sucks at WR evals.
WR – Sammy. Revis Island is more like a peninsula and Sammy makes my thighs damp.
TE – Gronk will probably shit on the Bills defense for 2 TDs. Fuck you Gronk.
Bills 20 Patriots 17
---
Editor's Note: Ready to try daily fantasy sports to win cash? DraftKings offers daily fantasy sports for the NFL, MLB, NBA, NHL, and even the PGA.  When you sign up today, you'll get a 100% deposit bonus and a free entry into one of their fantasy football contests when you use the promo code 'SAVAGES'

---
---
---