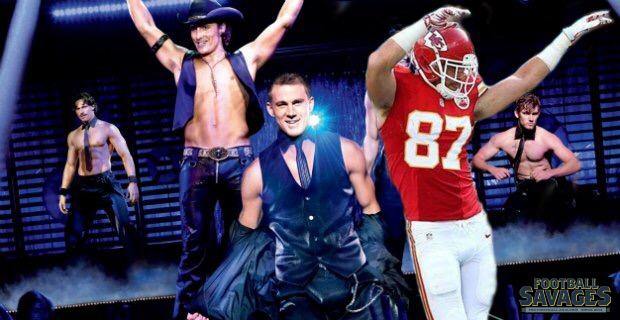 ---
New York Giants at Washington Redskins (-3.5)
I tried to tell you idiots about Kirk Cousins The God last week but you just went about your business thinking I was kidding. Maybe this will be the week that it doesn't feel uncomfortable to love your Cousins in a weird way.
The Giants aren't very good at the game of football and they are on the road against the best QB to ever lace em up. I'll take the Redskins to cover, ya bish.
Tennessee Titans at Indianapolis Colts (-7.5)
I refuse to give up on Jake Locker but the Colts are looking strong. This game will depend on what Dexter McCluster can do. Since that's the case, I'll take the Colts by 60.
Green Bay Packers (-1.5) at Chicago Bears
The Packers are still trying to get shit figured out from the terrible roster John Dorsey left behind and has now started assembling in Kansas City. The Bears have won 2-straight road games so it's only fitting that they blow this at home. Jay Cutler doesn't give a fuck about my prediction. GIVE ME THE PACK.
Buffalo Bills at Houston Texans (-3)
Another battle of the turds that doesn't interest me in the least bit. I'll throw a dart and go with the Bills because the Texans can't stop the run for shit. (According to PFF of course)
Carolina Panthers at Baltimore Ravens (-3.5)
Ravens cover because I don't know.
Detroit Lions (-1.5) at New York Jets
Rex Ryan is a fucking idiot and doesn't deserve to be a head coach and he sure as shit doesn't deserve my love Geno Smith. But, as long as the J-E-T-S JETS JETS JETS have Geno on their side I will pick them until the end of time. Well, besides this week because Calvin Johnson is literally going to catch 71 touchdowns. Totally not Geno's fault.
Tampa Bay Buccaneers at Pittsburgh Steelers (-7.5)
More like the Tampa Bay Succaneers in my honest opinion. I'll take Todd Haley in this one.
Miami Dolphins (-4) at Oakland Raiders
It's fitting that this shit fest will be played in London where people love soccer more than life itself. It will resemble a soccer match and Tim Tebows love life. #NoScoring. I'll take the Raiders because they have a coach not named Joe Philbin.
Jacksonville Jaguars at San Diego Chargers (-13)
Blake Bortles starts his run to Canton this week. Too bad he can't play defense because the Chargers are going to beat the living piss out of this terrible thing the Jags call defense. Which is weird because they have the greatest owner, coach and roster to ever be assembled. In other news Uncle Chaps is making the trip to a whales vagina to catch Bortles first start. Gonna be a long flight home, prolly.
Atlanta Falcons (-3) at Minnesota Vikings
The Vikings took a huge blow in the news department this week when they lost their franchise QB (Matt Cassel) to a season ending injury. Cassel just needs a chance to show the world he's great. He just can't catch a break (Or throw one either tbh.) Guess they will just have to play that guy they drafted. I can't think of his name but from what I remember he has a huge penis. Falcons cover.
Philadelphia Eagles at San Francisco 49ers (-5.5)
This is a weird match-up because the Eagles have won every game that they have outscored their opponent in. Meanwhile,  the Niners have lost every game that they have been outscored in. I'm still trying to figure out a way around this, but the jury is still out on science. Until then, give me the wanna-be #BirdGang.
New Orleans Saints (-3) at Dallas Cowboys
LOL. Saints.
New England Patriots (-3.5) at Kansas Chiefs
The Chiefs Kingdom will be looking to break the sound record on prime-time television for the world to hear.
FUN FACT: The Chiefs are 1-0 in games where they are attempting to break sound records that nobody gives a flying fuck about.
Someone with a lot of football knowledge said that Alex Smith is set for a breakout year in his 9th season. I'm still waiting for that to happen. I'll take the Pats in a LOUD game. Also, if you can figure out what a Chiefs Kingdom is, feel free to leave it here in the comments and I'll submit it to Wikipedia.
For a more serious look at the Monday night game have a look at my pal Ryan Scott Hall here
Point spreads provided by Football Locks. 
---
| Week 4 | Jeremy (20-12) | David (20-12) | Allbright (22-10) | Max (16-16) | Ben (21-11) | Jake (16-16) | Jinx (15-17) | Sully (18-14) | Ames (20-12) |
| --- | --- | --- | --- | --- | --- | --- | --- | --- | --- |
| Giants at Redskins | Redskins | Redskins | Giants | Redskins | Redskins | Washington | Giants | Redskins | Redskins |
| Titans at Colts | Colts | Colts | Colts | Colts | Colts | Colts | Colts | Colts | Colts |
| Packers at Bears | Bears | Bears | Bears | Bears | Packers | Bears | Packers | Bears | Packers |
| Bills at Texans | Texans | Texans | Texans | Bills | Texans | Texans | Bills | Bills | Bills |
| Panthers at Ravens | Ravens | Panthers | Panthers | Ravens | Panthers | Ravens | Ravens | Ravens | Ravens |
| Lions at Jets | Lions | Lions | Jets | Lions | Jets | Lions | Lions | Lions | Lions |
| Buccaneers at Steelers | Steelers | Steelers | Steelers | Steelers | Steelers | Steelers | Steelers | Steelers | Steelers |
| Dolphins vs. Raiders | Raiders | Dolphins | Dolphins | Dolphins | Dolphins | Raiders | Raiders | Dolphins | Raiders |
| Jaguars at Chargers | Chargers | Chargers | Chargers | Chargers | Chargers | Chargers | not Jags ever | Chargers | Chargers |
| Falcons at Vikings | Falcons | Falcons | Falcons | Falcons | Vikings | Vikings | Vikings | Falcons | Falcons |
| Eagles at 49ers | 49ers | 49ers | Niners | Eagles | Eagles | Niners | Niners | Eagles | Eagles |
| Saints at Cowboys | Cowboys | Saints | Saints | Saints | Saints | Cowboys | Saints | Saints | Saints |
| Patriots at Chiefs | Patriots | Chiefs | Chiefs | Pats | Patriots | #RedTeam | Chiefs | Patriots | Pats |
---
---