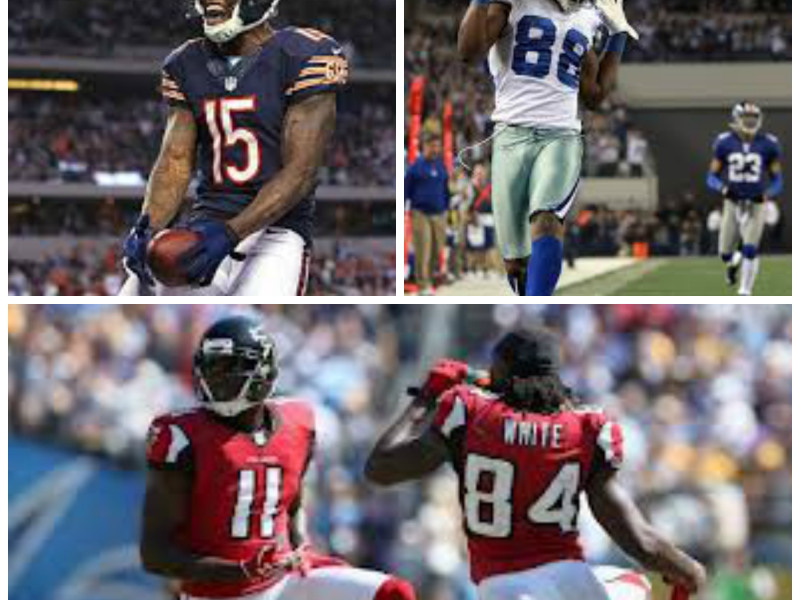 ---
The fantasy football life can sometimes be maddening. Players will over or under perform, injuries can turn a winning season into a complete failure in an instant, and in clutch situations fantasy studs can transform into fantasy duds.
Amidst all of the madness, there is one position that is almost guaranteed to frustrate, and that is the wide receiver.
If drafted well, your team should have a minimum of two RELIABLE options. This means that you want to get at least two guys that will be receiving the bulk of the targets in his team's offense. Sometimes this is easier said than done.
The following is a quick glimpse at some of the talent the NFC has to offer
IN A CLASS OF HIS OWN
I don't want to spend too much time exposing my man-crush for Calvin Johnson, just know this… the guy is a freak-of-nature. He is above and beyond the best of the field of wideouts, and this is a very talented group this season. He gets a ton of looks in the NFL's most pass happy offense, and despite continually being game-planned against, succeeds week after week. Consider yourself lucky if you get the honor of drafting Megatron.
THESE GUYS AREN'T SCRUBS
It must to be hard to have to compete against the greatness of one Calvin Johnson. Once we have properly placed Megatron on his pedestal, we can now look at the best-of-the-best the NFC has to offer.
Dez Bryant, Dallas Cowboys
Everything finally came together last season for Bryant. He went on a TD tear at the end last year, hauling in 10 TDs over the final eight games. Bryant has a good thing going in Dallas with Tony Romo, and that should carry over to this season. Jason Witten and Miles Austin are solid enough talents for defenses to not be able to key in on Dez, which gives him a huge advantage. I expect big things from the Cowboys number one this season.
Julio Jones and Roddy White, Atlanta Falcons
Every now and then, a team is assembled, and you can't help but think, "That's not even fair." I think that encapsulates the Atlanta Falcons offense this season. As difficult as it might be to think that two wideouts from the same team could both be top 5 guys, I don't think it's that far of a reach with this group. The Falcons love to pass the ball, and the trust Matt Ryan has been given has increased season after season. This should be one of the most pass heavy attacks in the NFL this year, and in my opinion, is the most talented group of receivers as well.  Throw Tony G into the mix and, well, that's not even fair.
Vincent Jackson, Tampa Bay Buccaneers
V-Jax became the exception to the rule last season, becoming one the few players to deliver a monster year after inking a highly lucrative free-agent contract. Jackson set career highs in both receptions and receiving yards last season. The struggle with him, as well as the Tampa Bay offense, was consistency. If Mike Williams can carry over what he was doing late in the season, Jackson should see far less double-teams. Combine that with Doug Martin, which could lead to a little more need for eight-in-the-box, and V-Jax should be able to do what he does best… take the top of the defense. I wouldn't be surprised to see Jackson set a new career high in receiving yards this season.
Randall Cobb, Green Bay Packers
Cobb is a versatile weapon. Think Percy Harvin. The Packers use him in a ton of different packages, so his targets will be consistent throughout the season. He is also typically their go-to-guy on end arounds, which could lead to some value in the running game as well. Cobb should be the least affected by the departure of Greg Jennings in this offense, and stands to be Green Bay's number one option. With Aaron Rodgers chucking him the ball, I'm thinking he'll be ok.
Brandon Marshall, Chicago Bears
So maybe there is something with this whole Cutler-to-Marshall thing. In his first year back with his old QB, Marshall posted seven games of over 100 yards, scored double digit fantasy points 10 times, and recorded fewer than five receptions just twice! Sure, I hate Jay Cutler, but Marshall is a PPR beast. He'll be the number one option for a QB that likes to sling the ball deep, expect a repeat performance from the duo this year.
LET THE MADDNESS BEGIN
After the first run of wide receiver comes the ugly truth… inconsistency. Look, there's only one football, and everybody wants to get their greedy mitts on it. I get it. Hell, sometimes being your team's number one guy doesn't guarantee you looks. Defensive Coordinators scheme, and that's cool, it's their job, just be prepared for these guys to have a few down weeks here and there.
Larry Fitzgerald, Arizona Cardinals
Poor Larry. The Cardinals passing game was an absolute joke last year, and Fitzgerald paid the price. Most owners last season had to make the troubling decision of dropping the talented receiver, but that won't be an issue this year. With Carson Palmer in town, and not much running attack to speak of, the Cardinals should look to go to the air often. I can't imagine Fitzgerald disappointing two seasons in a row, he's just too talented… right?
Victor Cruz, New York Giants
When you catch 10 TDs and people say you had a "down year", you must be doing something right. The biggest concern for the Cruz haters was his yardage totals, but a lot of that can be attributed to a depleted wide receiver corps. I will grant this, Cruz didn't look good when defenses keyed in on him. With healthy options back around him, Cruz should return to form in 2013, but don't be surprised to see a few clunkers.
Marques Colston, New Orleans Saints
I love the consistency of Colston. Ten games over 60 yards, and he scored a TD in four of the six games he didn't surpass the 60 yard plateau. He's not really the "go-to" guy in New Orleans, but then again, nobody is. He's got a great QB to throw him the ball and an excellent supporting cast. Don't expect huge outputs from Colston, he'll surprise you with a few, but he will deliver near double digit points on a consistent basis… slow-and-steady wins the race.
Steve Smith, Carolina Panthers
How the diminutive Smith continues to thrive in the NFL is beyond me. Despite his stature, Super Mario continues to stay healthy and put up very respectable numbers. Last season's drop-off in TDs was not an aberration; the Panthers have never had a complimentary receiver for the 34 year-old Smith, something that won't change this year. He did have eight games with double-digit fantasy points and five 100-yard efforts last season, but he only hauled in 4 TDs. I'd expect similar numbers from Smith.
HERE'S WHERE IT GETS A LITTLE SKETCHY
I'm not gonna call these guys "damaged goods", oh wait, I just did…
Jordy Nelson, Green Bay Packers
Much like I feel that Randall Cobb is least affected by the loss of Greg Jennings, I think that Nelson is most affected. Injuries derailed his season last year, which gave way for Cobb to showcase his skills. Nelson is still a viable option for many teams as a WR2, but I wouldn't be surprised if James Jones and he had similar seasons, and Jones could be drafted much later.
Hakeem Nicks, New York Giants
Being second-fiddle in New York isn't a bad gig. Nicks gets plenty of looks in an aggressive pass offense, and was coming off back-to-back 1,000 receiving yard seasons coming into last year. The issue with Nicks is his health. He missed five games last season with nagging injuries, but when he was healthy he looked good. Barring injury Nicks sound rebound nicely.
DeSean Jackson, Philadelphia Eagles
He's coming off a year ended by injury… he was disappointing before he got hurt… but he's really all they got! Jeremy Maclin's injury makes Jackson the focus of the passing attack, and I'm not sure that's a good thing. Jackson has never been a real "coverage breaker" and I doubt he'll be doing much over-the-middle stuff considering his concussion history… and the fact that he's as soft as baby shit. New head coach Chip Kelly could have some interesting things in store for this offense, and Jackson could be worth the gamble, but I wouldn't be shocked to see him wind up a bust.
NO THANKS… I'M TRYING TO QUIT
Here's a couple of guys I'm trying to avoid.
Miles Austin, Dallas Cowboys
It's not that he's coming off a bad season. It's not that he is the third option in this passing attack. It's not even the nagging injuries. I just don't like the guy. This is a gut feeling here… Austin has a crap season. Put it on the board.
Greg Jennings, Minnesota Vikings
How dare you Greg! The dark side… really? I hope you realize that's the equivalent to what you've done here. But it's cool, clearly you made the decision to join the Vikings based on superior QB play… wait, that can't be right. I bet it was because of their proven track record of playoff success… wait, that can't be it either. Oh, I got it… MONEY! Smart move Greg. Smart move. Draft him if you want to, he'll get a lot of targets, I just have a hard time getting excited about anyone who will have Christian Ponder or Matt Cassel throwing him the ball.
Golden Tate, Seattle Seahawks
Percy Harvin's injury has left a lot of fantasy owners intrigued by the possibilities of the Golden one. I'm not one of them. While he did take a step towards relevance last season, let's remember that this team did trade to get Harvin to compliment Sidney Rice, which isn't exactly a glowing review on Tate. He could prove me wrong, but he'll have to do it on someone else's team.
THE FORCE IS STRONG WITH THIS ONE
Sorry for another Star Wars reference… it just felt right. I'm not a big proponent of drafting rookies, so I'm only going to give you one guy that I feel will have an impact in his rookie year. Deal with it.
Cordarrelle Patterson, Minnesota Vikings
Remember that whole thing I said about not being excited for anyone that has Ponder or Cassel throwing to them? Really? I just said it! You should pay more attention. Well, either way, it doesn't apply here. While defenses are busy blanketing Greg Jennings, Patterson should get some room to work with, and should see a ton of receptions on short completions. It only takes one mistake for Patterson to turn a quick hitter into a TD, and that could happen several times this season.
---
---
---