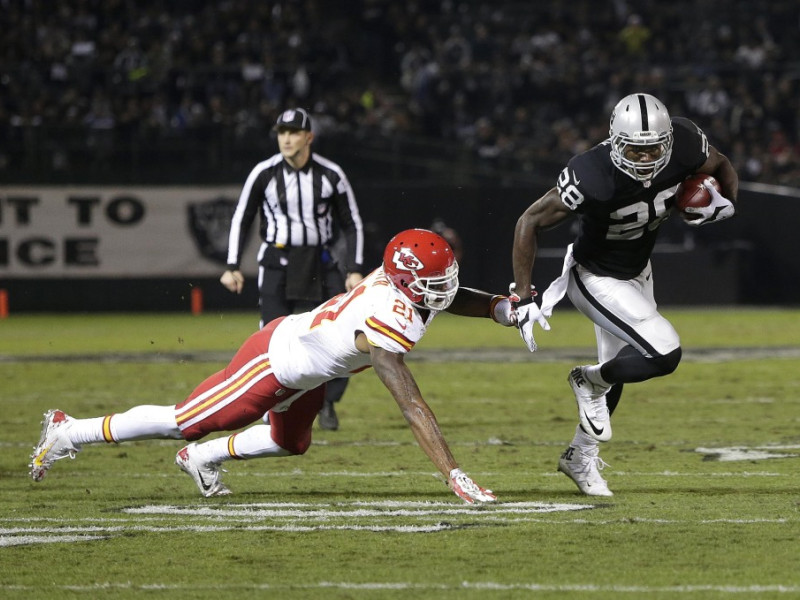 ---
(Photo:Marcio Jose Sanchez,AP)
Don't look for this to become a regular thing, but I figured why not branch out from writing one stunningly well prepared pregame preview a week and try my hand at a waiver wire article. How hard could it be really? Check waiver wire for guys that have been producing over the last few weeks, but are somehow still available and tell people they are fucking crazy for allowing these fine fellows to waste away at the end of the bench like that kid in middle school that wore his gym shorts under his jeans all day that all the kids made fun of.
Sure they didn't know he was just embarrassed about having incredible big balls, but he didn't know that would become a source of pride later in life when tea bagging his passed out drunk frat brothers. What I'm saying is I got over being that kid with gigantic balls just like you should get over your prejudice against these forgotten heroes of the gridiron.
The Street Free Agent Waiver Wire Pickups: Week 13
1. Latavius Murray RB – This is more obvious than when Don Lemon told TV viewers that Ferguson protestors were smoking weed. I know I'm not the only person with smell-a-vision, right Don? Obviously.
2. LeGarrette Blount RB – Why the fuck not. You have no idea what Bill Belichick is going to do next week. Maybe Vereen gets a flat tire and shows up 1 minute late to a meeting, maybe Gray doesn't make proper eye contact with the parking lot attendant. You have no fucking clue do you? Of course not, that's why you have trusted your waiver decisions to me. Personally I'm expecting the Patriots to try and cram it down the Packers throats, pack it in if you will.
3.  Jarvis Landry WR – This kid is literally dropping bombs on your moms, at least I think that's the correct saying for when a WR scores with relative ease, like with your mom. 3 TDs in the last 2 games! ¼ of his receptions have gone for 6 points. Oh and for fucks sake he gets the Jets next… the fucking Jets.
4. Davante Adams WR – This little bastard has Jordy "Long Strider" Nelson and Randall "that's not corn on the" Cobb getting all the attention, and damn it you just know Bill "on to" Belichick isn't going to let his team get beat by guys who routinely beat other teams. Bill is the original hipster for fucks sake. So fucking hip, that hip jumped the shark and started wearing skinny jeans and stupid fucking winter hats even when it's 90 degrees out go fuck yourself hipsters. Sorry, that was rude. Anyway I like this Davante kid cause he will probably score.
5.  John Brown WR – Ok, so he's got Drew Stanton chucking the rock, but who gives a shit right? This little engine that could has earned at least 5 targets a game in all but 1 contest this season and everyone knows opportunities are what make a waiver wire target a guy that you want to sleep with cause he makes you win and winning is sexy. That's just math you can't argue with.
In conclusion I hope you put all your remaining money on these guys cause fuck it, it's playoff time and you gotta go big or remain at home where you most likely are, probably sitting at your computer pant-less waiting for the waiver period to end so you can rub one out silently to Fake Agent porn while your mom bangs Jarvis Landry on the kitchen table.
Editors Note: Below you will find a tweet, from a man whose mother didn't love him enough when he was little. 
thanksgiving hottake. FUCK marshmallows, cinnamon, nutmeg, and any other BS in sweet potatoes. Salt - Pepper - Butter or go fuck yourself

— thestreetfreeagent (@TheStreetFA) November 26, 2014
---
---