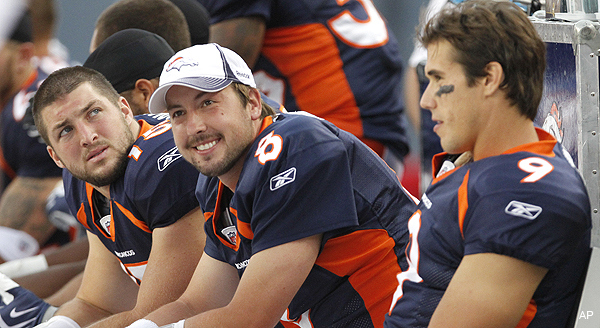 ---
I want to hate Peyton Manning, not because he's fucking awesome and doesn't play for the Bills, but because he shills for a guy who calls himself Papa. Jesus fuck Peyton….. a little respect, how much coin do you need? Papa….. get the fuck out of here and take that little plastic tub of butter and shame with you.
Sunday, December 7, 3:05 PM on

CBS
Sports Authority Field at Mile High, Denver, Colorado
Buffalo Bills (7-5) @ Denver Broncos (9-3)
The truth is it's harder for me to get up to writing this pregame piece than it is for Ron Jeremy to get up for his 6000th gang bang, I mean after #4,788 they all just blend together and he's just happy sporting a semi, but I digress. Look this is a football game that no one, save for a few random people who may or may not need psychiatric help, believe the Bills can win and while I may need psych help it's not cause I believe the Bills can win this game. They can't, well they can, but only if the Bills front 4 manage to knock Peyton out of the game early. Now, I'm not talking about a bounty here, but the defense has to know that if they don't literally kick the shit out of Peyton the team stands no chance, that's just science that can't be refuted.
I expect the Bills to make Captain Fivehead uncomfortable all day, but dammit that old bastard is too damn good to be shut down at home. So look for the Bills to record a couple sacks and for Peyton to cruise to at 3 TDs and 300 yards. The Bills have a knack for giving up big plays, at least it seems that way to me and I refuse to do the proper research to find out if that is true because perception is everything these days or so I have been told. He's Peyton Manning for fucks sake.
CJ Anderson has been a revelation for the Broncos, but fuck CJ Anderson. The Bills have been surprisingly good against RBs this year, which is a trend I expect to continue. They won't shut him down completely because Peyton, but I do expect CJ to have a rather pedestrian day and so should you.
I hear JT Money (I refuse to call him Orange Julius) is going to be active so that sucks. Don't be fooled by the stats that say the Bills are tough against TEs, that's bullshit. They are good against shitty/injured TEs, but have been gashed by Gronk and The Black Unicorn. What I'm saying is if a TE has a cool nickname that TE will most likely pimp slap the Bills.
I think Gilmore will be given the task of dealing with Demaryius Thomas so I expect him to get beaten like a he's the son of Adrian Peterson. DT should be giving the entire Bills secondary the shakes this week just thinking about the beating they are going to get.
I'm not over here telling you something you don't already know. The Broncos offense will drop a steaming pile of shit on the Bills. Sure Buffalo might make it a little uncomfortable like that one hemorrhoid that seems to flare up with the slightest hint of spice, but the Bills won't be able to bring the Broncos offense to tears and cold sweat and paralyzing fear like what happens when I get drunk and eat 2 dozen fire wings and forget about the fact that those wings will make it seem like my spine is being yanked out of my asshole the next morning.
I feel like I may have gotten off topic there. Butt Fuckit.
What no one is talking about is how this might be the biggest revenge game of the year. Kyle Orton back in Denver, the city that booted him out in favor of one of the worst QBs to play professional football in recent memory. Fuck Tim TeBLOW.
I expect Orton to drag his figurative balls across the Broncos literal chin this weekend. I'm thinking 290 and 3 TDs. I have nothing to back this projection up, save for my incredibly intuitive gut which is full of whiskey and bacon.
I'm predicting Scott "Short Bus Gronk" Chandler to have the type of game that makes porn stars thighs wet. This lumbering bastard is going to drop 75 yards and a TD on the Denver D and you can quote me on that.
Sammy Watkins and Robert Woods are dinged up but will play. Forget about Sammy as Chris Harris will likely shut him down and honestly I think Sammy may have hit the rookie wall. My boy Rob Woods should be able to do some work though. He's not going to set the world on fire this weekend but I think he shows up for something like 5 for 60 and 1.
Forced to start a Bills RB? Mr. InFredible is your man. He's coming off a 24 touch game and will get at least 20 chances to score this weekend. This may very well be Fred's farewell tour so you better jump on board and let the wind run through your beard.
I have no idea what I've said here, but I polished off half a bottle of whisky and that says something…. I think.
Broncos 34 Bills 20
---
---