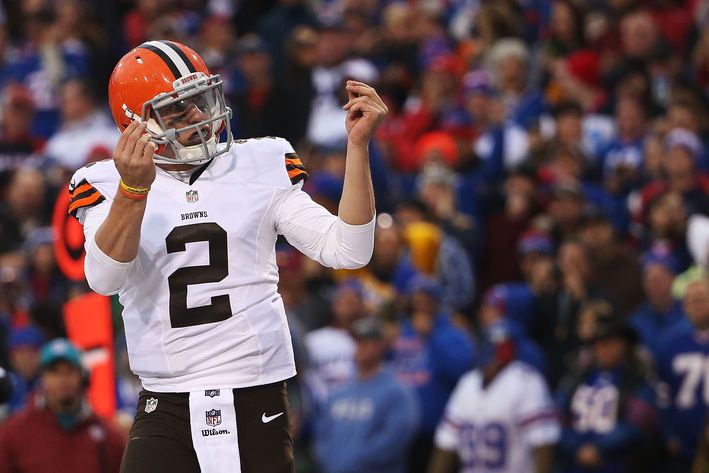 ---
(Featured image via Tom Szczerbowski/Getty Images)
The Browns decided to stick with Brian Hoyer because they hate fun and winning. Meanwhile, I keep falling deeper and deeper in love with Johnny Manziel by the week. This video was snagged off the twitter machine today of Manziel allegedly mumbling "I would've fucking hit him" after Hoyer misses a wide open Josh Gordon down the sideline.
Thank you Big Lead.com for the killer slow-mo shot of Johnny. I think it's pretty obvious that Johnny the Gawd would've hit Gordon in stride.
The Browns are now 7-6 on the season and have been pretty much eliminated from the playoffs after pissing away a 21-7 lead against the Colts today. They'd have to win their final three games (Cincinnati, Carolina, Baltimore) and also get help. Not gonna happen. Whatever bullshit excuse the media and/or the Browns themselves kicked out this week for Johnny Manziel not starting, it isn't gonna fly for the last 3 games.
It's a real shame we couldn't see Johnny play some meaningful football down the stretch in his rookie year. This Browns defense is special. Either way, I'm excited to see how this team progresses with Johnny at the helm.
Start Johnny or give him to me. (Chiefs)
---
---
---