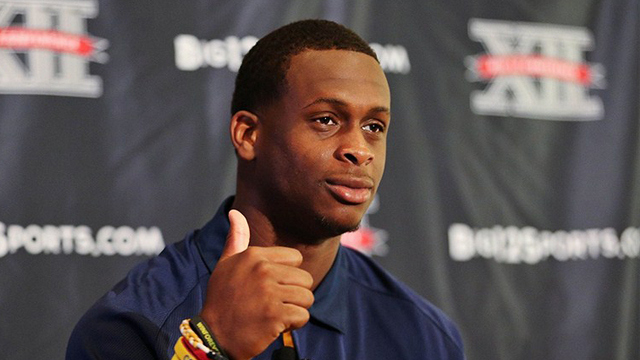 ---
Before I start, I would first like to apologize to anyone I offended with a huge, egregious mistake I made in yesterday's preview. I incorrectly shouted out Avril Lavigne when I should have shouted out Vanessa Carlton. I had to make things so complicated.
Please don't go. Here's football stuff.
As always, I'm going to give you the three headlines for each team in this game, especially since the real battles are with teammates for meaningful snaps (or roster spots, in some cases) and winning these games is only great if you're trying to get over an embarrassing Super Bowl loss.
If you didn't catch yesterday's preview, I'm pulling the headlines and replacing the depth chart link with those, mostly because I think we should be held accountable for the tacky headlines we hastily write the night before.
Packers:
Previous Headlines: Tight Battle For TE - Peppers — Mild or Spicy - Who's Laughing At The End Of The Night
Clipboard Controversy: Scott Tolzien and Matt Flynn are in a heated battle to become the official Rodgers back-up/clipboard holder/week 17 starter and so far, thanks to a downpour in Nashville, neither has really taken the reigns. I'm not sure on Rodgers' status for today's matinée, but he's just going to be out there to throw some fade stops and to do the discount double check if he does indeed play, so he's entirely irrelevant for this battle. It's too soon to call this race, but I'm not exactly sure many people truly care.
Adams Aspires To Awe: Rookie wide receiver Davante Adams should know the path to playing time. The Packers don't have what you'd call a steady option at tight end at the moment, and if Adams can do really cool stuff, we could see the Packers line up in a four wide set a whole lot. Adams works better on the outside from what I've seen in his Fresno State days, but that shouldn't be an issue if the Packers choose to go that route because of Boykin and Cobb's abilities to work from the slot. Still, he has to do something to make the brass think he's ready now, and this weekend his stage is in St. Louis.
Shuffle The Deck: Last week, the top thing to look at was the battle for the tight end position, but with nobody really coming out on top last week, the competition intensifies as everyone involved looks to establish their footing. Optimists may look at this as the glass being half full, but I think the better analogy would be a deck of cards. Right now, the Packers are playing five card stud and looking at possible straights and flushes, but nothing has rose to the top as the move they have to go for. They could chase the flush and get the cards for the straight, or chase the straight and get the cards for the flush, or hit absolutely nothing at all. I don't envy them in the slightest.
Rams:
Previous Headlines: Battering Rams - Tavon Awesome Again - Running Through Traffic
I'll Pistol Whip The Next Guy Who Says Shenanigans: Try to describe the ending to last weekend's thriller between the Rams and Saints without using the word shenanigans. Was it a known rule that you can't spike the ball if you drop the snap?
Catching Fire: One thing that jumped off the screen during the Saints vs Rams down the stretch last weekend was the potential coup of unheralded wide receivers that the Rams may potentially have inEmory Blake and Alex Bayer. Both fit the prototype and could be potential assets down the line for the Rams team that has kind of been lacking in that department since the Greatest Show on Turf days. Alex Bayer has the Height/Weight/Speed that fantasy football twitter rants and raves about, and Emory Blake brings a dynamic down the field option and potential core special teams player for years to come. When the game starts winding down, key in on those guys and formulate your own opinions on them and let me know your thoughts on each.
Throwing Flames: If Sam Bradford, Shaun Hill, and Austin Davis don't work out, the Rams could always go down the street and find the guy who threw that flaming whatever-it-was back at the cops, all while not letting go of his chips, down there in Ferguson.
J-E-T-S JETS JETS JETS!
Previous Headlines: Rex Is Gonna Rex - What Tight Ends and Wide Receivers Crack The Rotation - Dee Milliner is Gonna Rex
Amaro! Amaro! You're Only A Play Away: The Jets are still figuring out what to do with Jace Amaro, a modern "Tight End (but really a wide receiver)" who is versatile, but was really, really good at working from the slot while at Texas Tech. If he makes a big play lined up flexed out, he's destined to start seeing more and more time lined up like that. Until then, they're not going to go away from what works (Michael Vick has taught Geno how to scramble) for an unknown.
Nobody Puts Rexy In A Corner: Reports down at Jets camp are that Dexter McDougle and Dee Milliner both have knee injuries, and McDougle's has been confirmed as a torn ACL. Milliners is still unknown, as his MRI is on Sunday, but even if it's not torn, it's looking like a major possibility that he misses some time this year. Still, nobody puts Rex in a corner. The Jets will find a corner off of the street that will be serviceable, but it's worth watching them moving forward at that spot.
Gen-oh: Geno Smith is looking solid in his limited preseason action, but when will he start to look spectacular? Not a matter of if, just a matter of time before he moves to the front of the line.
Bengals:
Previous Headlines: Will McCarron See Jetskis All Over The Field - Lets Get Dennarded Up In Here - The Great Dalton Debate
Jetski Watch 2014: AJ McCarron didn't throw a pass against Kansas City. Can we continue to make jokes if he's on the practice squad? There's no guide for this.
No Secondary Concerns: Once thought to be the weakspot of the Bengals defense, the once maligned Bengals secondary has transformed into one of the better units in the league. The resurgence of Taylor Mays provides depth behind Reggie Nelson, and the debut of rookie Darqueze Dennard went without a hitch. Looking forward, the back four might still be the weakspot of the defense, but that won't mean all that much since their defensive front won't be much further ahead, if they even are.
Nothing's Quiet On The Defensive Front: You won't find many defensive tackles better thanGeno Atkins around the league, but there was a collection of other linemen got to the Chiefsquarterbacks for six sacks last weekend, and they're looking to make that a habit of that. I'd keep my eyes there tonight, especially down the stretch to see if guys like Margus Hunt can be majors going forward.
Ravens:
Previous Headlines: Inside-Out (Shoutout to Eve 6) - Tyrod Tha God - It Starts Upfront
Quoth The Raven, 'Nevermore': I get it. Ray Rice should have got suspended for longer. Let it go, your opinion has been heard, and Roger Goodell isn't going to renege on this, because that's like rule one of being a commissioner. Some of y'all calling for him to do so probably still hold a grudge on the girl who ducked you on the doorstep when you nervously tried to make the move too early.
Taylor-Made For This Offense: Tyrod Taylor is an outstanding fit for what they're trying to do in Baltimore, which is basically a slightly modified Air Coryell offense. Taylor thrives in the intermediate game, especially near the sidelines and off the play action pass, and his deep ball is nothing to scoff at either. I'll probably write about Tyrod every week this preseason, and will do so with no shame.
Rising From The Pit-Ta: DESHI DESHI BASARA BASARA! DENNIS PITTA CAME BACK HARDER THAN BRUCE WAYNE WHEN HE (Dark Knight Rises Spoilers Ahead) ROSE FROM THE PIT. (all caps was added for dramatic effect)
Cowboys:
Previous Headlines: This Too Shall Pass - They Too Shall Pass - Pro-Tip
And They Passed All Night: The Dallas Cowboys defense is so bad that you expect a punchline to follow. Sadly, they were the punchline last week.
Reauxmeaux: Tony Romo takes his first snaps tonight. Once he departs off the field, there's not going to be much more left to watch when the Cowboys are on offense.
I really have nothing else. Thanks, Cowboys.
Giants:
Previous Headlines: Williams Wows - Awww Jeez - Awww G's
Backfield Battle: In week zero, Andre Williams was the star for the Giants and last week, the star was Rashad Jennings. That can only mean that this week, we'll see Michael Cox or Peyton Hillis have a really good week to only make the Giants backfield even more of a mess. At least this year, it's four guys fighting for one spot and not Brandon Jacobs carrying the team squarely on his back. If it becomes a two horse race, your guess is as good as mine as to who emerges as the primary ball carrier, if there even is one.
We've Only Seen The Tip of the Iceberg With Richburg: Rookie Center Weston Richburg is going to be really, really good, and that might happen sooner rather than later. Once the Giants pull the trigger and give him the position, I don't think he'll give it up for a long time.
Moore Looks for More: Damontre Moore has been hit and miss this preseason, but with Jason Pierre-Paul's struggles continuing to pile up (it's not a very high pile, but it's something), the opportunity for Moore to take the starting job could not be better. He's going to be a rotational lineman for sure, but being the first guy in the rotation holds more merit than being a relief rusher.
Colts:
Previous Headlines: Good Grief, Moncrief - Mewhort-A-Mania - Can Trent Richardson Return To Form
HERE COMES THE BOOM: Daniel "Boom" Herron has some serious potential to be the third down running back for the Colts moving forward, and with a solid showing over these next few weeks, the potential could become realized. Herron is a solid catcher out of the backfield and despite his stature, he carries the ball like he's angry. Herron is a solid compliment to Richardson, if the Colts choose to employ a committee approach.
#FreeDaRick: Da'Rick Rogers had one catch last week, but that catch was a glorious bomb down the sideline. It was from back-up QB Matt Hasselbeck, but Luck didn't play all that much, so it may have been with the one's. Hopefully, that catch is not the end, but just the beginning.
Good Grief, Moncrief Part Two: Electric Boogalo: The headline was better than the player last week, but that was bound to happen with such a money headline. That being said, I devalued the headline to make it easier for him to exceed my probably too high expectations.
Dolphins:
Previous Headlines: See You Later, Gator - Less Incognito - #FreeLamarMiller
Not going to pretend I watched Dolphins vs. Falcons last week. The headlines stand.
Buccaneers:
Previous Headlines: Basketball Try-outs - You Down With McCown - All You Need Is … Lovie
Just one headline/storyline this week: Why exactly did Mike Glennon get moved to the bench? What did he do that was so deplorable that the team had to bring in Josh McCown? It's not like they're a team that is just one piece away from a major run. They're probably two years away from being a serious contender for the NFC South, so bringing in a 35 year old quarterback probably isn't going to move them "over the hump" because the "hump" is really a very large, steep hill at the moment. Also, moving Glennon to the bench after a not awful rookie season isn't exactly going to elicit confidence in the young quarterback.
Due to time constraints, there will only be two headlines on the games moving forward.
Bills:
Previous Headlines: Did Seantrel Henderson Hate Playing For Free? - Lost In The Woods - Yawn
You Down With Bryce Brown: The odd man out in Philadelphia, Bryce Brown came to Buffalo via trade, and it looks like he might be the replacement for Fred Jackson whenever Jackson turns 40 and finally becomes ineffective enough to close the door on his career. Talent has never been the issue with Brown, but it's been finding a place and sticking, and that's been something that has plagued him his entire career. The 23 year old running back was supposed to be the chosen one in Tennessee, Kansas State, Philadelphia, and now expectations have lessened in Buffalo. Hopefully, he found himself in Buffalo.
Under Pressure: Last year's Bills were one of the most aggressive, attacking fronts in all of football, and that's something that seems to have eluded them through their first two games. I'm not saying they suck, I'm just saying last year's defensive output was streets ahead of where they're at now. There's still three games to get their groove back before the points actually count, so that's something to look forward to in Buffalo.
Steelers:
Previous Headlines: Shiny New Shazier - Let The Arrows Fly - Wheaton No Teenage Dirtbag
Archery In Progress: Rookie weapon Dri Archer waited little time to showcase his playmaking abilities in last weeks action, and the hopes in Pittsburgh is that archer keeps putting arrows in the bulls-eye and I'm going too wild with these puns.
Martavis In Progress: Rookie WR Martavis Bryant had two fumbles and looked raw and inexperienced because he is raw and inexperienced. This should surprise nobody, but moving forward he needs to carve out a niche sooner rather than later, and he's talented enough to find that.
Falcons:
Previous Headlines: Hard Knock Life - Nickel is the New 4-3 - Fullback Back or Nah
Like I said, I didn't watch the Falcons vs. Dolphins. I don't regret that decision.
Texans:
Previous Headlines: Clown Question Bro - Su'a-Feeling Out Process - Tom Savage Has No Affiliation With Football Savages
Clowney's Nickname: So far the leading vote-getter is Nightmare, leading all other nicknames one vote to none.
You Kick Up The Leaves, The Fitzmagic Is Lost: Ryan Fitzpatrick had a bad day.
Bonus Reminder That Tom Savage Isn't Affiliated With Football Savages
Cardinals:
Previous Headlines: Logan Thomas Looks To Overthrow Competition - Downtown John Brown - Defense - Trustable or Combustable
What Can Brown Do For You: If you read the preview last week, you were prepared for the John Brown experience, as he was electric at all levels of the field for the Cardinals last season. Was that a one time thing, or is this something to look forward to for 16 games this season? That picture will become clearer after this week, but even if you don't care about that, he's still really fun to watch.
The "I Once Liked Logan Thomas" Tweets Are Back: And they're from the same guys who talked the most shit on him during the draft process. You don't look smart doing this, guys.
Vikings:
Previous Headlines: Teddy- Raising The Barr - Zimmer A Winner
Teddy: The crowd was chanting it, and so was I. He looked solid last week and hopefully he gets some time with the ones against Arizona this week to fully see what he can do. His first throw where he rolled out of the pocket and fired a strike on an out route from last week could look so much cooler if it was with Adrian Peterson and Greg Jennings. I haven't had time to look into what the plans are this week, but watching Matt Cassel and waiting for Teddy Bridgewater is one of the more frustrating things I've encountered this preseason.
Remember The Name: Adam Thielen. I don't care about your fantasy football team, so don't take this as "DRAFT ADAM THIELEN" but if you're a Vikings fan, this guy is going to be around for a while. Or, he'll get cut and never play again, but it won't be because he doesn't try hard and make plays out there. A core four special teams guy and developmental wide receiver right now, but the rookie out of Minnesota State-Mankato could be a real life "Invincible" story.
---
---
---