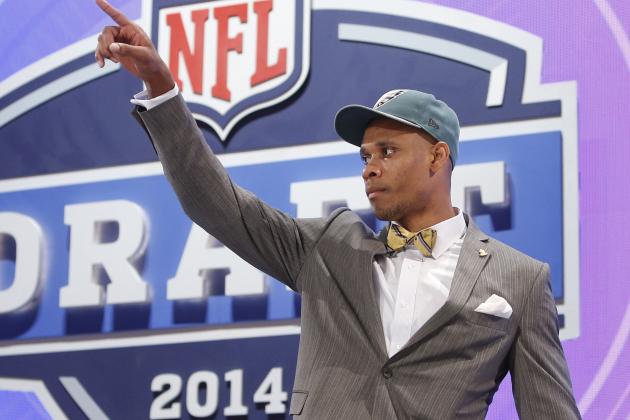 ---
Somehow, I survived writing Thursday night's preview with only minor mental scarring. Friday's slate of games could be a different story though, considering some of the teams involved. Let's get to the games though.
I should state that because this is the preseason, I'm looking more at the intrasquad storylines, whether it is a debut, position battle, schematic change, or the projected headwear choices of players on the sideline. Because it's the preseason and football's really not that serious, I'll try to have mini-headlines that reflect that.
I try and pull the most up to date depth chart I can that has the numbers for each player on it, but sometimes assholes who just tweet key words over and over again for "SEO" don't let me prosper. In that case, I get discouraged quickly and just post the one on the team site.
Miami Dolphins:
See You Later, Gator: UDFA Rookie TE Gator Hoskins from Marshall is as close of a carbon copy of Charles Clay as you can get, and his versatility and super smooth route running looked like a clear path to a roster spot and eventually playing time. This is another one of those examples where getting the right guy in the right fit can make all the difference in the world, and I was really, really excited to see his first preseason game to see if he can just plug in and do the same things as Clay without a hiccup. Sadly, Hoskins is listed as 'Harold Hoskins' and not 'Gator Hoskins' on the official depth chart posted above.
This is a tiny bit worrisome to me because I loved the name Gator and felt it was perfect and names are like starting quarterbacks, if you have two, you really have none.
Less Incognito: Last year's Dolphins had an issue with being Incognito on the line, in more ways that one. Richie Incognito and Johnathan Martin made much more noise off the field than on, where the line's pass blocking was virtually nowhere to be seen. Out go those two players and in comes Billy Turner and Ja'Wuan James out of North Dakota State and Tennessee, respectively, who both wasted no time climbing their way into the two deep rotation during training camp.
Both are looked at as key players on the right side, and veteran addition Branden Albert travels South from Kansas City to try and get Ryan Tannehill to believe in strong, trustworthy offensive lines again. Man, that last line is a few choice word changes away from becoming the plot to a made-for-tv romantic comedy for the Lifetime channel.
#FreeLamarMiller: Lamar Miller is approaching his 3rd NFL season and his potential is still larger than his resume, a resume that consists of 228 carries and three touchdowns over the past two seasons. This year is going to be his year, according to some supporters around the league who feel the underutilized Miller is finally going to get a decent amount of carries. It is definitely worth noting these same #FreeLamarMiller guys have been saying this the past two seasons and have a sparking 0-2 record to show for it, but that's none of my business.
Atlanta Falcons:
Hard Knock Life: With HBO's "Hard Knocks" starting up Tuesday night and the Falcons being the featured team, I figured I might as well have a small section in here each week where I pile on with more jokes about how boring their team is. Unfortunately, I fell asleep at some point near the end of the episode and don't remember what exactly was real and what I imagined in my dreams. Did Julio Jones impress the team with his juggling skills this week?
Nickel is the New 4-3: In the depth chart that is linked above, the Falcons have two defensive tackles, two defensive ends, two line backers, a free safety, a strong safety, and three corner backs listed as their base defense. Usually we see teams list a base defense with seven guys up front and then spend half the game in the nickel trying to cover three wide receiver sets, but the Falcons are doing the opposite and going all in, acknowledging that they're going to probably start off every game with three corners on the field to combat the passing league. Either that, or I'm looking too far into an unofficial depth chart released in the first week of the preseason (and it's probably the latter).
Fullback Back or Nah: The Falcons depth chart base offense is 21 personnel, consisting of a fullback, running back, and tight end. Are they really just trying to line up in the nickel all game to dare teams to run on them, because that might backfire. I'm really intrigued to watch this game to see what Atlanta has in store.
Buffalo Bills:
Link to Depth Chart
Did Seantrel Henderson Just Hate Playing for Free: Probably the biggest takeaway from the Hall of Fame game was the revitalization of Seantrel Henderson, the once highly sought after high school recruit who didn't seem to like playing at 'Da U'. For some reason, moving to Buffalo from Miami made Seantrel rededicate himself to the craft and it's worked out really well so far. I'm sure playing against that Buffalo defensive line every day in practice might have something to do with this as well. Still, can he keep up this level of play and if he can, can he become the full time starter when the games actually matter?
Lost In The Woods: Robert Woods had a solid rookie season and hasn't done anything remarkably stupid during the off-season, but he was out there catching passes from Jeff Tuel last week for whatever reason. I don't want to look too much into this, but is there anything to be gathered from this, good or bad? I guess something good would be if he asked to play more because he felt like he needed more quality work, and something bad would be if he was getting work with the second team because they want to see if he's a part of their plans going forward or not. Either way, he's a fun receiver to watch and I won't complain about seeing him play more, but this kind of ties into my last point…
Yawn: Alright guys, we get it. Football's back. But now that there are other teams out there playing football besides the Bills and Giants, are you even inclined in the slightest to watch them play again? It's like being asked to see a decent movie (ADVERTISERS: DO YOU HAVE A DECENT MOVIE COMING OUT SOON? IF SO, LET ME KNOW AND I'LL USE IT IN METAPHORS AND SIMILES FOR YOU IN MY PREVIEWS. THERE ARE MULTIPLE PLANS AVAILABLE.) because once you see it the first time, the proposition of watching the second time really comes down to how bored you are and what else you can do.
Obviously, this doesn't apply to Buffalo fans who enjoy watching their team play as much as possible, but for you, football fan reading this preview, if they're playing a preseason game against someone else in the same boat, and there is an episode of Chopped on, you're going to at least see if you've seen this episode of Chopped before. That doesn't make me think any less of you, especially because you're reading this and didn't just swipe over the Buffalo preview thinking, "well, I've already seen them play and Sammy Watkins isn't even 6'3″, so it's not like I'm missing much."
Carolina Panthers:
Will Benjamin Catch On: Rookie Kelvin Benjamin leads a WR crew that can be described as living human beings, with families and friends, chosen by the general manager of the Panthers to catch passes from Cam Newton and I will leave it at that. Nothing more, nothing less. (I think Tiquan Underwood has cool hair as well)
Disruption is Production: The Panthers boast a defensive line group that is so deep, some of their 3rd string guys that probably won't be active all season would probably be major pieces in rotations around the league. This bodes well for making the later stages of these games more entertaining when the Panthers are on defense, when a bunch of really talented linemen could potentially be auditioning for work after the waiver wire.
Who Emerges: This year's Panthers team is very good at what they're good at and everything else is entirely unknown. Someone has to emerge as a potential contributor because there is still plenty of snaps to be allocated. Because of their strengths up front on the defensive side and Cam Newton on the offensive side, anything else anyone new can bring to the table is welcomed and appreciated, but not exactly necessary.
Tampa Bay Buccaneers:
Basketball Try-Outs: The highly anticipated preseason debuts of rookies Mike Evans and Austin Seferian-Jenkins symbolize the changing of the guard or strategy or whatever the buzzword you'd like to use, but don't get it twisted, these rookies aren't doing anything that hasn't been done before. It's how good they are at what they do that's really the story. Both rookies possess truly elite (not this watered down version of the word elite that has lost its true meaning) catch point domination, and are looking to prove that they can win nearly every single jump ball thrown their way as soon as possible. That's not the only thing these guys can do (Evans has underrated speed and ASJ is a very solid blocker and route runner) but it's something that doesn't take a ton of playbook knowledge or NFL experience to master, so it's expected to be out in full force immediately.
You Down With McCown: This is not Josh McCown's first rodeo, for lack of a better cliche, but at the same time, it kind of is. For the first time in his career, he was sought out to be "The Guy" and not just "A Guy" by the team that signed him. He's 35, has started more than 10 games in a season once, and prior to his resurgence (or emergence if you weren't a fan of his previous works in Oakland and Arizona … and Detroit and Carolina if you like strictly back-up work) he was basically forgettable and cast aside. With someone finally saying "Josh, you're our guy" will we see a continued success of what he did last year in Chicago or will we see the early career Josh McCown come back? None of these questions will be answered on a Friday night in Duval, but people will try to do it anyway.
All You Need Is… Lovie: New Head Coach Lovie Smith brought in Jeff Tedford, presumably off of a ranch in the middle of Wyoming, to head up the offense, but the surprisingly great Bucs defense is now under his leadership and he's looking to have the same successes with it that he had in the past with the Bears. Like McCown, there's not much you can pull from what a veteran does during the preseason, but it's still fun to try and scrape together some sort of argument either for or against him after 4 quarters of semi-meaningless football in August.
Jacksonville Jaguars:
Scoreboards: I heard they got some new scoreboards down in Jacksonville from very reputable sources, but I have yet to see them functioning during a football game. We'll see I guess, but I wonder how noticeable they'll be during this game.
Scorebortles: I heard they got some new quarterback down in Jacksonville from very reputable sources, but I have yet to see them functioning during a football game. We'll see I guess, but I wonder how noticeable they'll be during this game.
Pool Party: I heard they got some new pools down in Jacksonville from very reputable sources, but I have yet to see them functioning during a football game. We'll see I guess, but I wonder how noticeable they'll be during this game.
In all seriousness, Jacksonville's biggest offseason acquisition Toby Gerhart was ruled out for this game and their team is a very tough one to predict, and as brought up by my boy @JinxFootball Wednesday on twitter, they have nearly top priority on the waiver wire this preseason, meaning a lot of people you see playing for other teams around the league are going to end up on this Jaguars roster when the games actually matter. That's why I mailed this in, but felt compelled to tell you, my respected reader that probably skimmed over Jacksonville to get to your favorite team, that I didn't do this because I don't care. I care.
Philadelphia Eagles:
Will Jordan Matthews Cure Cancer and Catch 10 TD's At One Time: According to some reports I've seen by Eagles fans and reporters, he already has, working with the 2nd team, behind Brad Smith.  (Serious note: who emerges as a pass catcher behind Maclin and Cooper? It's an open field behind them in my opinion.)
Will the Eagles Keep The Tempo: When this game gets down to the 3rd and 4th string guys battling for a roster spot, will the Eagles system on offense continue to crank at a fast pace or will Chip Kelly not even try in the preseason? That guy is wildly unpredictable and so is what they'll do as a team.
Sanchize Player: Will Mark Sanchez beat out Nick Foles for the starting quarterback spot? No? Alright…
I have no clue what's going on in Philly and I'm not going to pretend like I want to. When Chip Kelly went there from Oregon, my inner Washington Husky homer mechanism never switched off.
Chicago Bears:
Fuller Than Ever: When the Bears were on the clock for the 14th selection in this past year's draft, they had a bunch of great options to choose from that could come in and provide a major shot in the arm for their struggling defense last season, and went with Kyle Fuller, a corner out of Virginia Tech over guys like Ryan Shazier, CJ Mosley, and Dee Ford, banking on Fuller becoming a lockdown corner that would be a cornerstone of the franchise for years to come. It's a matter of time before he takes over the left corner back slot opposite of Charles 'Peanut' Tillman, if all goes well, which is never guaranteed. (Note: I know nothing is really guaranteed in the NFL (or life, for that matter) but this whole preview thing works well if I make educated assumptions based on what I've gathered. Prospects bust for so many reasons that it's irresponsible to assume that anything is guaranteed, on either side of the spectrum. Sorry for the long aside.)
All Fales Down: In a piece for Draft Mecca, a trio consisting of myself, @illmALEC and this guy named Eric who isn't on twitter anymore, compared David Fales to the Kanye West song "Hold My Liquor" off of his most recent (as of Wednesday night, hopefully something drops soon) album "Yeezus", due to the extremely polarizing opinions on David Fales, a quarterback prospect out of San Jose State by way of a bunch of colleges. Fales is someone to definitely watch going forward, mostly because of his accuracy and decision making. He's a guy who can take a Ferrari and drive it like a Ferrari, but at the same time he's not going to be able to drive a Toyota Supra like anything more than a Supra.
If you didn't get that analogy, I'll try to explain it better: he's the kind of guy who is not limited or protected by the system he is playing in. Because his ball placement is top notch, open receivers are going to be able to catch the ball in space and make plays, but because his arm strength leaves a little to be desired, he's not going to be able to create space like other guys with amazing arm strength can do. Guys with elite arm strength can fit the ball in a closing window, and guys with accuracy like Fales can place the ball perfectly in an opening window.
No New Friends: Aside from the above mentioned David Fales and a few running backs trying to make the roster (Ka'Deem Carey, Senorise Perry, Jordan Lynch) nearly every new face on the Bears this season is either on the defensive side of the ball or down in the trenches on offense, which is where the Bears weren't the Bears last season. The team was built on hardnosed defense and mauling trenches, and this past draft class was a step back into shoring up those areas. They had a solid group of skill position players on offense and some good pieces on defense last season, but this kind of fills the leaks and adds depth in the right places. This game will be good for watching guys like Ego Ferguson, Will Sutton and Christian Jones late in this game to see how well they fit the Bears defensive scheme moving forward.
Oakland Raiders:
Start Up The Carr: David Derek Carr is a promising rookie quarterback who comes from Fresno State to Oakland, which is a weird trip distance because it's either a kind of long car drive or a really short flight. I would choose helicopter as my preferred method of travel from Fresno to Oakland (having never been to Fresno or Oakland) but I just think that getting out of a helicopter is probably the coolest way to make an entrance from any method of transportation (second place would be going from a limousine to a red carpet, third would be exiting a private jet with sunglasses on, fourth would be piloting a jetski onto a beach and hopping off onto the sand, all the way down to attempting to get off of a boat onto a dock that's slightly higher than the boat (but not high enough to use a ladder), which is makes you look like a fool ten times out of ten) and I care about that sort of thing. I have no idea if Derek Carr cares about that sort of thing. I guess I don't really know that much about him.
Aging Players Make Bold Decision On Ring Chasing Quest: Matt Schaub and Maurice Jones-Drew come over from Houston and Jacksonville, respectively, chasing a championship ring at the twilight of their career. Usually, people don't consider Oakland greener pastures, but after what both these guys went through last season, they're just happy that the pasture has grass on it.
Mack Sack Attack Now in Silver and Black: Khalil Mack, rookie out of Buffalo (the University), is going to be a bright spot for a defense that doesn't actually look that bad on paper (see Oakland fans, I can say nice things sometimes) and is a serious contender for Defensive Rookie of the Year, and probably the favorite for Defensive Rookie of the Year Not Named Clowney, or DROYNNC for short, because of his versatility and pass rush acumen. Having LaMarr Woodley and Justin Tuck showing him the ropes probably won't hurt either.
Minnesota Vikings:
Link to Depth Chart
Teddy: Teddy Ballgame was selected with the 32nd selection in last year's draft after new Offensive Coordinator Norv Turner had blood dripping down his hands from banging the table begging the brass to trade up to select the Louisville product, allegedly. That last story is a mix of hearsay and artistic expression of what I wish happened but regardless, the story is what we expect from anything involving Teddy at this point. Usually, it's the GM that trumps the coach's want and picks the guy he wants, but that wouldn't be a normal Teddy Bridgewater situation.
This is a nice, soft spoken momma's boy (admittedly) from a rough part of Miami; a skinny black quarterback that functions best in the pocket; a quarterback that lost hype from his Pro Day. None of those things are the norm, so this chapter of the saga just makes sense as well. It's a matter of time before he becomes the starter in Minnesota, and this debut game vs Oakland is hopefully the first step in accelerating that process. Most people just watch the quarterback anyway, so it's not like you have to pay attention to anything new or do anything different to follow this storyline closely.
Raising the Barr: Somehow, a 9th overall pick out of UCLA going to a team that went 5-10-1-that plays a position they desperately needed-is a secondary storyline. C'est la vie though. It won't take long for Anthony Barr to make people quit forgetting he exists, just by the nature of the way he plays the outside linebacker position. The Vikings defense has added 3 first round picks over the last two drafts (as well as two on offense but shhh, I'm trying to make a point) and Barr is the most recently selected, and possibly the most important in their quest to become a play-off team again.
Zimmer a Winner: New head coach Mike Zimmer was one of the puppeteers pulling the strings for one of the most stifling defense in the league over the past six seasons. Now, he leaves the cold, harsh winter weather of Cincinnati for the cold, harsh winter weather of Minnesota, except this time as the main guy for the first time in his professional coaching career. Will he be successful in the first preseason of his head coaching career? And does it even really matter? I'm sure this is one of those situations where he'll get praise if he wins (for some odd reason) and nothing if he loses (because people realize that losing in the preseason doesn't mean anything, but somehow winning means something. I don't get it) unless he loses all four games. This is a total cop-out of a storyline, but I like how it kind of rhymes, I don't know of any position battles off the top of my head in Minnesota, and I didn't have the courage to go with the storyline title of: "ZIMMER; SINK OR SWIMMER?"
New Orleans Saints:
Let That Boy Cooks: Brandin Cooks, wide receiver out of Oregon State, makes his preseason debut for the Saints and has the most of gain out of a few solid outings over the next four weeks. Cooks joins an established passing game, orchestrated by Drew Brees who wants to play until he's 100, and looks to find an early niche to get on the field early in his career. Despite his diminutive stature, Cooks has been effective lined up both on the inside and outside, on routes deep to short, and even in the reverse and screen game. He can do it all, but the preseason is a solid showcase for him to show whoever is making decisions in New Orleans the things he can do good enough to see action in the regular season.
The Saints are going to need all four weeks of the preseason (and probably more in the regular season) to truly find out what roles they can best use Cooks in to help them win games.
The Champ Is Here: Newly signed Champ Bailey probably won't play many snaps, but watch and see how much of an impact his veteran presence has on the other defensive backs on the roster. That's where his impact will be felt over the next four weeks, not covering any routes himself. You don't get to the level of excellence Champ Bailey is at by accident, and I'm pretty sure the younger guys on the roster are watching his every move just to see how he goes about his business, but let's see how well that translates on the field.
Play FreeByrd: (I'm pretty sure this one of the most obscure jokes of this entire preview, just go with it, we're almost done here) Jairus Byrd followed the money down to the Bayou and now pairs with Kenny Vaccaro, hopefully to form one of the best safety pairs in the NFL. Now, that doesn't have much to do with this preseason game, as Byrd is a veteran who probably won't play much and Vaccaro is youthful enough to want to play, but important enough to where the Saints will probably say "Nah, just put on this visor and watch these other guys play for a little while" to prevent any sort of injury. The two drives these two play together are definitely important to see how they align (Single high with Byrd over the top and Vaccaro roaming is my guess) and how well that works out for the Saints.
St. Louis Rams:
Battering Rams: The already solid in the trenches St. Louis Rams decided solid wasn't enough, and spent their top two picks on Greg Robinson, an offensive tackle (turned guard for the time being) andAaron Donald, a defensive tackle, and both of whom are too good to sit on the bench. That's why Robinson kicked inside to guard and Donald is probably not far away from getting solid snaps in the defensive line rotation. Both of these players look to make an instant impact and have playing styles that are actually exciting watch.
Tavon Awesome Again: In the 2013 draft, the Rams selected Tavon Austin 8th overall and found out very quickly that finding ways to best utilize his talents was going to be a tougher task than they thought. Austin's great games were spectacular (304 total yards and 3 TDs vs. Indy) and his bad games were ultimately forgettable (one carry for six yards and no catches against Tennessee the week before). The majority of  his targets in the passing game came when Bradford was the starting quarterback (46 of his 69 targets came in the 7 games Bradford started), but he was most productive in making big plays in the other six games he played. Can the Rams use these four weeks to test different cool ways to utilize Tavon Austin, and do they even want to?
Running Through Traffic: Calling the Rams backfield a traffic jam is an understatement; it's essentially Seattle at rush hour. The quartet of Zac Stacy, Benny Cunningham, Isaiah Pead, and rookieTre Mason are all fighting for the top dog status, and the lionshare of carries that the top dog gets, making this one of the most intriguing position battles around the league, in my opinion. I don't really have a clue how this one ends up shaping out, but that just makes the battle even more interesting. Running back by committee is probably the end result, but there's only so many carries to go around that just making it into the committee is no guarantee.
---
---
---