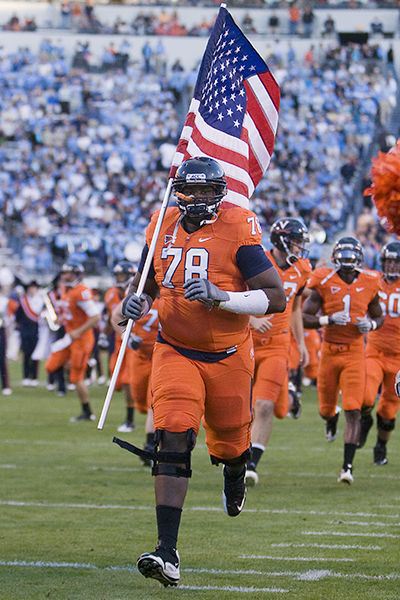 ---
Morgan Moses
6'6″ 325lbs
OT- Virginia
Strengths: Intelligent. Leadership. Size & strength.
Weaknesses: Doesn't find work. Stands around a lot. Lunger. Plays high.
While I write this post I thought it would be wise to let you all know I am a die hard UVA fan and have seen a ton of Morgan over the past three years. While scouting him I tried to hide my "homerism" and not go in with any pre-conceived notions on his talent. Morgan is a guy UVA fans have loved ever since he was the gem of our recruiting class. He was a top flight OT coming out of HS and he really helped us land some other fringe prospects who may have went elsewhere if not for him signing with us. Morgan's body has changed completely during his time in Charlottesville and so has his game. He came to UVA a 345lb mauler and now is far from it. When scouting Morgan for this piece I noticed one major problem, he's hurt by some awful guard/center play. There were a few pressures that on second look were caused by QB not being able to step up in front of his pass set. Also when dissecting his run blocking I noticed he appears to have gotten beat when in reality he is pulled off of his assignment to help out a guard who was abused. Perry Jones' ability to make people miss and Kevin Parks' ability to one cut saved UVA from a lot of missed blocks by the interior 3. Below you will see some short videos to give you a visual on what I am explaining. I used the UNC game because it was the easiest to get good shots of him as most of his cutups are actually of Oday Aboushi.
Low man wins (he's number 78) #MorganMoses https://t.co/IOKyyWRfEd

— Sully (@SullySparks) July 30, 2013
This is a classic pad level mistake. In football and particularly line play the low man wins, he plays high and pays the price here. Also he doesn't give maximum effort on this block which seems to be a trend if the play is going to the opposite side.
Watch the hesitation here once the ball is snapped. Why wait? Go get him #MorganMoses https://t.co/4N2dP9cbAc

— Sully (@SullySparks) July 30, 2013
Watch the beginning of this video and think about what you see wrong. He knows his assignment, gets out of his stance, then stands and stutter steps before going to get his man and ends up lunging out to try and block him. Why wait? If you know your assignment and its right in front of you THEN GO MAKE THE BLOCK.
Stands straight up, isn't active, lazy, ends up in the way here #MorganMoses https://t.co/qjvOTe6qwS

— Sully (@SullySparks) July 30, 2013
Here is a great example of what I mean when I say when doesn't find himself work. As an offensive lineman your job is to block to the whistle, if you stand around you run the risk of this, getting in the way. Stay busy, go clean somebody up and devastate a dl with an earhole block. If you get caught standing around you almost always end up messing up the play by being in the way. Pet peeve here folks.
You see a lot of this. Standing around #MorganMoses https://t.co/RwqGaewbK9

— Sully (@SullySparks) July 30, 2013
Here you see him miss a block and stand around. At first I thought about not even putting this in here but watch this video closely. He doesn't miss the block his guard gets another brutal swim move from Sylvester Williams (happened all night) and Morgan is left with the decision to abandon his assignment, reach back and try his best to get a hand on Williams or stick to his assignment and get up a level. I can't fault him for anything here other then the standing around part, he almost appears frustrated here and in reality I can't blame him.
Here this is a run they need inches. He gets beat off the line an stood straight up #MorganMoses https://t.co/RQTKPMFkIq

— Sully (@SullySparks) July 30, 2013
He is a little slow off the ball and once again his main issue is pad level. He give a good effort to stay engaged but at 6'6″ 330lbs you should never be moved off of any line like this.
But here his punch is unreal. This is how you pass block. Land the hands #MorganMoses https://t.co/cjFEWdcGoC

— Sully (@SullySparks) July 30, 2013
This is a brutal punch here, textbook. OT need to punch out and "land the hands" here he does both of those to perfection. On a side not here why does Philip Sims freak out and start to run around? The play is being blocked perfectly, relax. This video is why Morgan is a prospect all wrapped up in one.
Morgan is an interesting prospect who is moving to the left side this year. He has really changed his body over the years and his weight loss has improved his flexibility and agility. He could probably stand to lose another 15 and play around the 315-320 mark and I think it would help him with his pad level. His punch is there when he brings it correct fundamentally. He has the ability to stalemate a defender and stop them in their tracks but too often he's high and lunging. I hope the guard play is better this year so that he can react more and not seem so lost. With some added focus to his fundamentals he has the chance to make it as a pro. I have heard of his work in the weight room and his leadership to the team, he needs to show this on the field. If he makes himself more active I think his tape would look a lot better. His pass set while high is very solid and he doesn't seem to be fighting it any more which will bode well for him in his switch to the left side. He needs to trust his instincts and use what god gave him (the 6'6″ 335lbs) rather then second guess himself on the field. I will watch Morgan closely all year and I am excited to see what he's done in the off season to prepare for his switch to left tackle. As of now I would feel comfortable drafting him but I wouldn't do it before round 3 and even then that may be a little high.
Questions? Comments? Concerns? Hit me up on twitter @SullySparks
Special thanks to draftbreakdown.com for the videos. If you would like to watch every NFL Draft prospect in action head to their site.
---
---
---