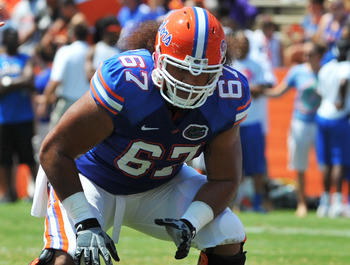 ---
Jon Halapio
Guard 6'3″ 321lbs
University of Florida
Strengths: Power. Violent Hands.
Weaknesses: Base. Pad Level. Lazy in pass pro.
Jon Halapio is a mamoth guard for the Gators. He is a player who is very raw to this point but still weirdly dominant as a run blocker. He uses his hands well and is a guy who lives for the pancake. He finishes blocks off as well as anybody in this class. He has a tendency to get a little lazy in pass pro but he makes up for it against the run.
#thatpunchdoe #Halapio https://t.co/9U8Ge88CxW

— Sully (@SullySparks) August 20, 2013
Watch this punch multiple times. This is stonewalling a defender and using your hands/punch to devastate. His upper body strength is elite.
"@SullySparks: Omg…..#Halapio https://t.co/xcEyEjqVni" Sorry but….. @ECStoner

— Sully (@SullySparks) August 20, 2013
Here you see what you'll see a ton, pancakes. If you've seen my previous write ups you'll remember I made key points about other guys not finishing blocks. Halapio does not have that problem.
/takes pants off RT @SullySparks: "@SullySparks: Welp…..#Halapio https://t.co/XwU5vab09f" @ECStoner

— Eric Stoner (@ECStoner) August 20, 2013
There is one word to describe this, devastating. Halapio is as physical a player as you will watch, and he is a prototypical guard. He doesn't look to move this guy out of the hole, he looks to devastate him.
Plays high on contact. Feet constantly stop. #Halapio https://t.co/wY3ld4Wivy

— Sully (@SullySparks) August 20, 2013
Here you will see one of my biggest issues with Halapio. He relies on his strength so much he stops his feet and does what I like to call the "elephant walk". The elephant walk is where you stand straight up, stop chopping your feet, and attempt to use brute strength to get a guy moving. This does not work on someone playing with better leverage/pad level who is equally as strong as you.
Decent recovery here but this is why you don't collect as an OL. #Halapio https://t.co/L6lFJCl43E

— Sully (@SullySparks) August 18, 2013
Here he makes a lazy attempt at the block, tries to catch the DL, and pays the price. Not punching off the line results in this.
Halapio is your typical road grader. He needs a ton of work on his technique and fundamentals. If Halapio learns the nuances of playing OL you are looking at what could be a dominant NFL player. His attitude is evident, strength is there and most of all athleticism isn't poor. With better pad level at the point of attack Halapio could have even more pancakes, which scares me.
Right now I feel comfortable saying Jon is my #2 guard prospect I have watched, coming in just behind Gabe Jackson. Halapio's skill set could allow him, with improvement, to take over as the top guard prospect for next year.
Special thanks to draftbreakdown.com for all of their hard work on the prospect videos. If you would like to see NFL draft prospects then check out their site!Questions? Comments? Hit me up on twitter @sullysparks
---
---
---