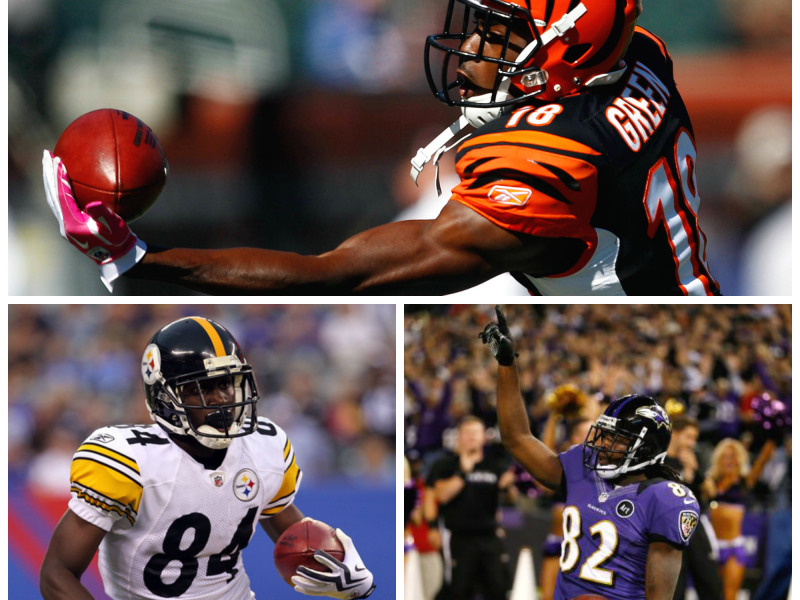 ---
AFC East (New Faces)
There are a lot of new people entering the mix in the AFC East this year. The Jets are sticking with old talent, the Bills are running out a similar crew, but the Dolphins and the Patriots will be playing with some new toys.
Danny Amendola, New England Patriots
The biggest question with Amendola is the same every year. Can he stay healthy? Let's just consider the possibility that he can, and look at his ceiling. He is only 27, and has missed nearly half of his games over the last 2 years. I know he only has 7 career touchdowns. But there is one difference this year I am forgetting. That's right, Tom Brady is now his quarterback. Randy Moss went from 42 catches for 553, and 3 touchdowns to 98 catches for 1,493, and 23 touchdowns in his first year as a Patriot. I know Amendola doesn't have Moss' talent, but even Brandon Lloyd, considered a New England bust by many, added 300 yards and 20 catches when he switched from Bradford. Other than injury, there is very little risk in Danny Amendola.
Mike Wallace, Miami Dolphins
Wallace has the talent and the speed of an elite level wide receiver. Let me start by saying that I don't think Wallace is a top 15 fantasy wide out this season, but I do think he has fantasy value. Wallace had a down year. He averaged 1,200 and 9 touchdowns in 2010 and 2011, but fell back to 836 and 8 touchdowns. He managed those numbers despite a Roethlisberger injury, and disappearing for most of the second half of the season. Good news is that Ryan Tannehill completed 44.4% of his passes 20 yards or deeper last season. That was good for third best behind Peyton Manning and Robert Griffin III. Having a proven guy in Hartline next to him will help as well as Wallace tries to get back to the homerun threat he was in 2010 when he averaged 21.6 yards per catch.
Kenbrell Thompkins, New England Patriots
Most people thought Aaron Dobson was going to be the rookie grabbing the spot for New England, with the absence of Lloyd and Hernandez. But Dobson had zero targets from Brady against the Bucs and Thompkins looks to be a guy who gets some targets this season. I am always skeptical of undrafted free agents, but if there is a team that has a proven track record with unknown guys it's the Pats. Thompkins finished with only 541 yards and 2 touchdowns in his final season with the Bearcats, but it hasn't stopped him from climbing up the depth chart.
AFC South (Aging Wideouts)
There are some young talents like T.Y. Hilton, and Kendall Wright, but its time to look into the affect father time will have of some of the AFC South's biggest names. They should all look familiar to you.
Reggie Wayne, Indianapolis Colts
He has had a Hall of Fame career, and recorded a bounce back year last season behind the 4,000 yard rookie effort of Andrew Luck. The problem is that he only got in the end zone 5 times last season, despite recording over 1,300 yards receiving. I would be careful with Wayne. Luck is still a young quarterback and Hilton appears to be developing a rapport with Luck, and could take away targets from Wayne. He has only has 3 double digit touchdown years, and none since 2009.
Andre Johnson, Houston Texans
He is officially on my "do not draft unless desperation sets in" list. If he falls, go for it, but he is a draft in name only guy, and at some point you have to accept that other receivers are better options. He finished in the top ten in fantasy wide receivers last season, but the young guys are coming up on his heels. Cecil Shorts, and Randall Cobb are both better options, because the price tag is less. Johnson is getting older, and has lost a step due to injury troubles. He started all 16 games last season, but only 7 the year before, and I feel like the tread is starting to wear off the tires. Proceed with caution.
Kenny Britt, Tennessee Titans
Coming off yet another knee surgery, Britt is a scary guy to take chance on. I know I called this the aging wide receivers list. Am I the only guy that feels like Kenny Britt feels like a 35 year old? Guess what… he is only 24 and already starting to get rundown. He has only managed one 16 game season in his career, and that was in 2009. The upside to Britt is that he has shown number one receiver talent when healthy. In just 12 games in 2010 he amassed 775 yards and 9 touchdowns. I think I would personally go with Kendall Wright in that receiving core, but if you are in a deep league, and have the roster space, he might be worth a late round flier. Of course, that's hoping this is the year he finally gets healthy.
AFC North (On the rise?)
I am sure that the AFC South would say age before beauty, but looking at some of the young guys that could break out this season in the North has me wondering who is ready to take the next step.
Torrey Smith, Baltimore Ravens
After nearly two identical seasons, people are wondering if this is the year Smith breaks out. Both last year and his rookie season look the same, 800 yards 9 touchdowns. A lot of analyst think that this is his break out year, but don't be too sure. Flacco isn't ranked in the top 15 of quarterbacks, and Smith hasn't significantly improved his route running in the offseason. Here's the good news. He hasn't missed a single game in his two years. And he can fly, so big touchdowns are always on the horizon. That being said, here are some less sexy wide receivers that finished ahead of Smith last season: Lance Moore, Steve Johnson, Cecil Shorts, Mike Williams, and James Jones. Don't reach on Torrey Smith.
Antonio Brown, Pittsburgh Steelers
Brown had a bad year in 2012. That goes without saying. He is not a traditional sized number one at only 5'10" 188, but Mike Wallace is gone, Ben Roethlisberger is healthy, and he has to throw to someone. Emmanuel Sanders will get targets, but Brown is a much better route runner, and the Steelers like the quick short passing game, leaving him as the primary option. Brown did have a bad season last year, but he did show some signs of life late, scoring a touchdown in each of his last 4 games, and he finished as high as other number three guys for your squad, like Brian Hartline. Give him a shot, his ceiling is high.
Mohamed Sanu, Cincinnati Bengals
There isn't a lot to go on with Mohamed Sanu, but a lot of professionals think he is ready to break out in 2013. He had less than 200 yards receiving last year, but still managed 4 touchdowns making him a great red zone threat. I would watch your step though. He hasn't fully established himself as the number two guy, and he doesn't have top end speed. The other side of that coin is AJ Green will take most of the attention off the other receivers leaving him with single coverage. He is only worth it if you have the space though. He hurt his foot last year, and he will probably end up being one of those wait and see waiver wire pickups early in the season.
AFC west  (Talent Colliding)
The Chiefs have the unheralded Dwayne Bowe, the Chargers mostly have no names, and the Raiders only clock 40 times… That leaves us to look at the Denver Broncos wide receivers for our final divisional peak. It's the truest form of a time-share.
Eric Decker, Denver Broncos
I think Decker is the most hurt by the arrival of Welker although everyone's numbers are probably due for a decline. Decker had 125 targets last year, and caught 85 balls. There is no way you can anticipate that Decker can repeat those numbers with the target eating machine, Wes Welker, in town. One thing that will keep his stock up is his knack for the end zone. He finished last season with 13 touchdowns, which was second most in the league. Peyton Manning has already had a year to get used to Decker's style and will continue to look his way. Good news is that he is the lowest ranked of the three wide outs but still has number-two wide receiver potential. 
Demaryius Thomas, Denver Broncos
Thomas is talented. He has the most talent in this great wide receiver crew and Peyton Manning takes him to a completely different level. Under Tebow, Thomas caught 32 for 551, and 4 touchdowns. Under Manning however, he caught 94 for 1434, and 10 touchdowns. What a difference a quarterback makes. I do think his numbers will go down too. He knows that if he catches 100 passes this season something in the offense isn't working, because there are a lot of weapons in Peyton's arsenal. Be cautious on how high you go on him though. He is currently ranked 24 by ESPN, but knowing that he is sharing the workload you might be better waiting for Welker at 36 or Decker at 53.
Wes Welker, Denver Broncos
Welker is finally free of the reins of Bill Belichick, and instead of missing Tom Brady, he gets the luxury of a different future Hall-of-Famer. Welker has been the equivalent of an innings eater in baseball. He just goes out there and catches 100+ without blinking an eye. His has six 100 catch seasons out of his last seven. The difference between him and Decker is that Welker has never had a double-digit touchdown season. So why is Welker ranked so much higher than Decker? That I can't figure out either. I like all three of these receivers to be fantasy starters, but it will be hard to know who to trust week in and week out.  I would rather take Decker than Welker because the cost is lower making the risk lower.
Rookie to look out for:
Keenan Allen, San Diego Chargers
Allen has first round talent, but a knee injury his senior year caused him to slide down the draft board. Malcolm Floyd is still nursing a sprain, and the Chargers are looking for answers at wide receiver. Allen could be that guy. In his junior year he caught 98 passes for 1,343 yards. He has big play potential in an offense that throws a lot and looks to be behind in some games. Keep a lookout for Keenan Allen.

---
---
---