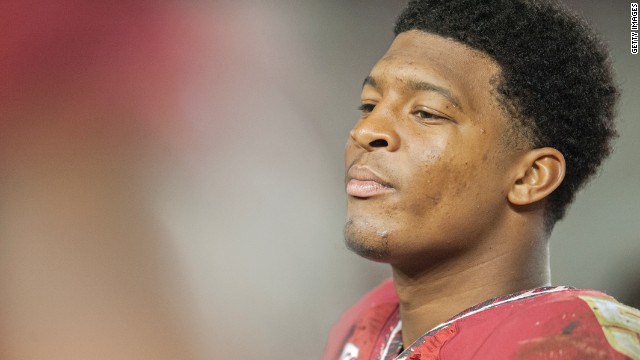 ---
Both on and off the field, Jameis Winston has been criticized quite heavily, as of late. Off the field, youthful mistakes and criminal allegations surround Winston. On the field, many analysts fear that he has regressed from his 2013 form. The two entities are related and the off-field troubles, to a degree, make sense of Winston's on-field struggles, but there is a misconception that Winston has regressed as an NFL prospect.
"Regression" is the Wrong Word for Jameis Winston.
Winston is not a worse prospect than he was a year ago. Though different, "worse" or "regressed" is not the correct way to explain it. Rather, Winston has built upon certain areas of his ability, while also having some of his flaws become more obvious. While the progress was expected of such a bright player, the increased occurrences of his flaws was not. So, what happened?
The media has gotten to Winston. To be fair, he brought some of it upon himself with the shouting of obscenities (let's be real, this was just a young kid being dumb and it shouldn't be a major concern) and stealing of crab legs. Although, there are allegations of rape (2012) and point shaving (2014). The rape case has yet to be finalized and Winston has not been convicted, but the concern over the accusations is fair. But point shaving? Give me a break. At this point, it seems as if people in the media are throwing stories at Winston and hoping something sticks. The point shaving allegations have yet to be proven true.
Though, true or not, the heightened attention surrounding Winston has led him to appear more frazzled in games, at least in the first halves of them. It would be hasty to assume "correlation equals causation" in this case, but there seems to be some sort of linkage. The most reasonable explanation is that Winston has not been able to focus as well as he had been able to in the past, making memorization of the playbook and opposing defenses a bit tougher. Instead, it seems to take him time to adjust to the game and make mental changes "in the moment" in order to beat defenses. For the sake of being safe in my analysis, that is simply speculation, but the pieces to believe such puzzle are there.
While Winston's suspected focus issues are tough to confirm from an outside perspective, the team around Winston can explain other issues. More so than in 2013, Winston seems flustered in the pocket as a result of interior pressure. The problem is that this universal struggle among all quarterbacks is being interpreted as a major problem from Winston when it is not. Because it is a "new" common sight for Winston, there is an assumption that he has gotten worse in that area, though it is actually the offensive line.
Last season, the Florida State offensive line was led by center Bryan Stork. Stork earned All-Conference honors and was drafted by the New England Patriots this past May. He was, and still is, quite talented and his lack of presence among the current Florida State offensive line is noticeable. Physically, the interior offensive line as a whole has seen a drop off in play. They are more easily being forced into Winston's lap and giving up room, which further exposes the struggles of tackles Cameron Erving and Bobby Hart. Erving moved to center for Florida State's recent game against Miami, but not much changed for the unit, in regards to pass blocking.
More importantly, the 2014 offensive line in front of Winston has gotten worse with interior blitz pick-ups. With Stork at the helm, creeping blitzers and "fake" blitzers were more often identified and blocked, or left unattended if identified as "fake." Under Ryan Hoefeld, and now Erving, free rushers up the middle have become a regular problem. Winston, not having dealt with it as often last season, is struggling to adjust to the pressure of having interior rushers constantly in his face. What needs to be realized is that something like that comes with experience. In fact, Winston displayed the ability to roll away from interior pressure and make a moving throw on multiple occasions versus the Miami Hurricanes just a few days ago. Why was he able then and not six weeks ago? Experience, as well as trial and error.
For example, look below at this throw vs Notre Dame a month ago. Winston could not find an open target and, as a result, a rusher got off of his block on Florida State's right guard Tre' Jackson. He begins to close on Winston and the young quarterback panics, resulting in a throw off of his back foot and into traffic for a Notre Dame interception.
As I just stated, Winston displayed much more poise against Miami, which is a sign that he seems to be developing in an area of weakness. In 2013, Winston was more likely to drop his eyes and take off running. He has since become more conservative in his scrambling, favoring to throw instead. Despite improvement there, Winston is still struggling in two key areas: throwing "digs"/intermediate crossers and seeing underneath coverage.
Most "route struggles" with quarterbacks come from throws to moving targets outside the numbers, like outs and corners, but Winston struggles elsewhere. Though he is wonderful at throwing posts and up-seam throws because of what seems like heightened ability to gauge depth, Winston struggles to hit receivers moving more horizontally across the intermediate and deeper areas of the field. The issue here is laziness in his feet to redirect back to the middle and comprehension of where a receiver ought to be when the ball is where Winston puts it. After making his outer read, Winston rarely adjusts his feet properly to make a throw over the middle. As opposed to getting one foot in front of the other, his feet are more horizontal, making it to where Winston is throwing more with his arm and less with generated power from his lower body.
In Derek Carr's final two seasons at Fresno State, he had the same issue, and it hindered him. Now, Winston is more successful over the middle than Carr was, but regardless, it was one of the main flaws that made Carr fall in the draft. Rightfully? Well, that is another debate for another day, but Carr has already been able to make strides in his rookie year in becoming more efficient with his feet when throwing over the middle.
Winston's biggest hindrance is his inability to read linebackers underneath in coverage. A handful of Winston's interceptions this season have been because he forced a throw into a linebacker that he did not see. Below, Winston does not see a poaching linebacker right in front of him.
Again, this is an issue that can be fixed as result of live snaps. Of course, it is still problematic for the time being, but it is not as if he is generally inaccurate or his pocket movement is poor, which are both more difficult to "fix" in a player's future because they are products of coaching, natural ability, and one's desire to learn and grow.
With that said, the question of Winston's learning ability and eagerness comes into play, and that is silly. People across the nation have failed to see that Winston has actually improved in a number of areas and was more "raw" of a player in 2013 than they wanted to give credit for.
For one, his elongated throwing motion from 2013 has been shorted this season. Granted, there are still times when the old motion shows itself, usually if he is throwing deep without a great base to throw from, but for the most part, Winston is getting the ball out quicker. For those who thought he was going to be Byron Leftwich 2.0, there is no need to worry.
Many quarterback gurus will tell you that being efficient in the shorter game is key to being an elite quarterback. Contrary to the criticism around Winston, he has improved there. Though still a bit clunky at times, the outward transitions in his footwork are becoming more smooth and timely, which has had a positive effect on his ball placement on such throws. On routes like short outs, drags, or slants, Winston has more regularly been hitting his targets in stride, whereas he made receivers work for it in 2013. Making these throws more easily accessible for receivers allows for more yards after the catch, ultimately leading to a more efficient offense that forces team to give up ground down the field to shut down shorter concepts.
Throughout 2014, Winston has also been displaying the same advanced understanding of timing and anticipation that he had last season. Below are two displays of Winston's timing, one from 2013 and one from 2014. The first is a bit more impressive than the other, but that can also be accredited to immense trust and chemistry with Rashad Greene.
For the sake of exemplifying Winston's ability, below are a couple more throws that display just how talented of a passer he is.
Talent is quite clearly not an issue for Jameis Winston. The problem is more that he needs more live snaps under his belt, but at the same time, he absolutely needs to get out of Tallahassee. Otherwise, the media will continue to shred him, deserving or not. Due to his necessity to get the hell away from Florida State, Winston is going to need to sit for a year in the NFL. Too many people are going to assume that means he is an inferior prospect, but is the draft meant for short-term investments? No. Long-term, Jameis Winston has a strong chance to be the best quarterback in this class, and even the last.
---
---
---