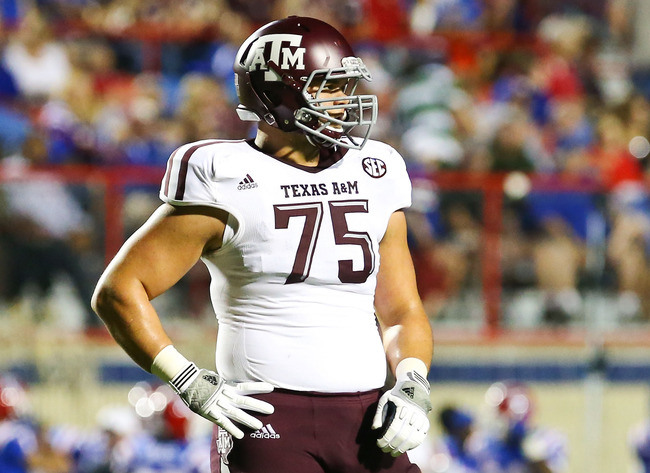 ---
Jake Matthews
6'5″ 305lbs
OT- TAMU #75
Strengths: Athleticism. Footwork. Technique & Fundamentals. Pass pro. Uses his hands well.
Weaknesses: Strength? Run blocking. Needs to stay engaged longer.
I could start this write up of Jake Matthews by saying "Athlete" and then leave the rest blank. He is a great left tackle prospect who is already finished. His footwork is a thing of beauty and when you watch him it's almost like he's gliding across the air rather then stepping into a pass set. You have seen me point out other prospects fundamental flaws but I didn't see any that stood out with Jake, probably due to his lineage. He is an absolute technician with his game and I think he's going to translate very well to the next level. Below are some vine's that will show some examples of what he does well, unlike past prospects there are few where he does something wrong. Even when he has a bad block it isn't necessarily a trend like I saw with some of the other prospects.
While very subtle here watch him move and change direction while staying square and sound. I'm in Love #Jak… https://t.co/bsF9dgr7Rs

— Sully (@SullySparks) August 2, 2013
Watch Jake change direction here without over-extending. He moves his feet not his upper body, stays square and balanced. Folks this is how it's taught. If you are coaching offensive line somewhere take your OT's to a classroom and put on a tape of Jake. This is just awesome.
Welp…..#JakeMatthews https://t.co/BakO9ZeyCr

— Sully (@SullySparks) August 2, 2013
Here again you see Jake move well and never get out of position. He stays square, never reaches and this block becomes another thing of beauty. Watch as the DE appears to have him beat for a quick second, he uses his technique to stay in position and finish this block. This is awesome.
Athlete. Wow. #JakeMatthews https://t.co/t514AJeG8j

— Sully (@SullySparks) August 2, 2013
Here is an example of his athleticism. Remember when watching his move and glide that you are watching a 6'5″ 305lb man. He gets out in front and executes this block perfectly. Read back to some of my other posts and you'll see where I've brought up guys reaching at the next level, here you see the exact opposite. This is how you block a level up effectively. It's no surprise with his family that he is such a technician but this is just textbook.
Jake Matthews is the best OT prospect I have seen to date. You can't really point to any one thing and say he doesn't do it well. He needs to stay engaged with his block longer but some of that could be contributed to blocking for Johnny Football and never knowing which direction he is going. Qb's like Manziel are a nightmare to block for because your solid effective block can suddenly turn into a bad one based on his change of direction. Jake is going to be beside himself at the next level if he ends on a team with a pocket passer. He is a good run blocker due to his athleticism but he isn't a dominator. When watching him I saw a LT not a traditional road grader RT but his play on the right side was due to them having Luke Joeckel in the mix last year. My last big question mark with Jake is strength. You don't see him move people off the line consistently but then again he's not asked too a ton. TAMU has him set blocking a lot, which is where you start off in a quick pass set and take the DL where he wants to go. This is probably because of Johnny Football and his playing style to allow him to read the holes when he wants to take off running. In summary Jake Matthews is a home run prospect, the best in this class that I've seen so far. He does everything well and fundamentally is more advanced then some LT's starting in the NFL today. I am very interested to see him on the left side this upcoming season, and of course we will see plenty of TAMU with Johnny Football quarterbacking them.
Questions? Comments? Leave them here or hit me up on twitter @SullySparks
Special thanks to DraftBreakdown.com for the video content. Check out their website if you want to see every NFL draft prospect.
---
---
---