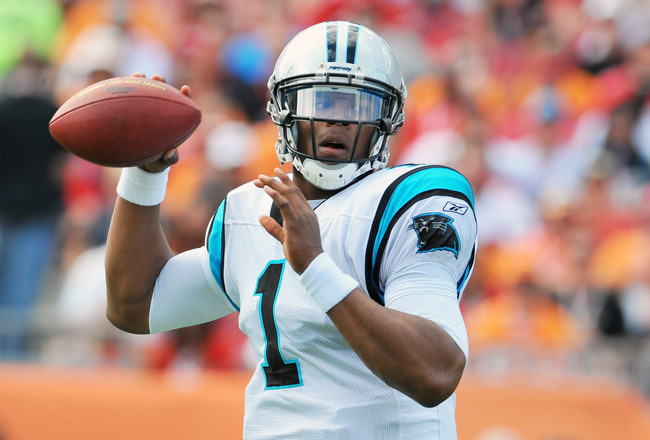 ---
Cam Newton has been under the media's microscope since his days at the University of Florida. At the time, there was good reason for it. He had stolen a laptop, leading him to be kicked out of the university. Despite the adversity, Newton dominated the junior college circuit, then transferred to Auburn and won the National Championship. There, he was genuinely a man among boys.
After being the No.1 overall selection, many scoffed at the selection of such a "raw" player going so high in the NFL Draft. Once again, Newton overcame that and won Rookie of the Year. But of course, the media was not done. By then, the question was whether or not he could be a high-level passer. As should have been expected, Newton shut his doubters up and progressed as a passer each year.
By 2013, Newton had become an unstoppable force. He was a top 5 quarterback last year and I have full confidence in saying that. Newton maneuvered the pocket as well as anyone, made far more plays on his own than should be requested of anyone, and completed throw after throw that maybe only a handful of others in the league could make. He had become what was expected of his No.1 overall status.
"But passer rating! Completion percentage! Only 24 passing touchdowns!" Honestly, that is childish. Am I supposed to sit here and be told that Newton, in that Carolina offense, was supposed to put up numbers like Drew Brees? Childish. People made up their minds about Newton before he even entered this league and they simply refused to believe that he can be great.
When Newton was making that horrid Carolina offense move, his disbelievers were silent. When he was leading 4th quarter comebacks, most notably versus New Orleans and New England, his disbelievers were silent. When he was the most dominant player on the field at all times, his disbelievers were silent. As I said, they made up their minds on Newton four years ago and didn't want to ever accept that they were wrong.
Sadly, Newton has seemingly gotten tired of the team that he has to lead. From 2011 to 2013, there were, at the least, a few foundation pieces around Newton, such as Jordan Gross and Steve Smith, but even Smith seemed to be regressing. In 2013, Newton also had Brandon LaFell, who has thrived in New England this season. As anyone who watched the Panthers would know, the 2013 corps was still underwhelming as a whole, but Newton had some comforting pieces around him. Soon, that changed.
Gross retired, Smith was released, and the front office opted out of signing LaFell, who's contract was up after 2013. By the time the 2014 season rolled around, Newton had close to nothing to work with. He had the familiar face of Greg Olsen and the first round rookie Kelvin Benjamin (who was not even worthy of being selected that high;  at least the front office tried), but that was it, really.
For most of 2014, this has been the roster Newton has had to work with. I would be lying if I said that this wasn't comical. Ben Roethlisberger gets the "offensive coordinator issues" narrative. Sam Bradford got the injury excuse. Matt Stafford gets the "well he's still young and has not had the best team" talk. Newton? "Oh, we all knew he was just a raw athlete trying to play quarterback. It's his fault. Enough pieces were there."
As anyone would expect after looking at that roster, Newton has had a tough time compensating for his team this year- and that is putting it very kindly. Through the first six weeks, Newton held up fine, and his Cincinnati game was such a treat to watch, but Newton suddenly became 40% of who he was in 2013 after that Cincinnati game. Something clicked, something changed.
Since the Green Bay game, Newton has been noticeably unhealthy and, honestly, somewhat disinterested. He's moving slower, especially laterally, he is failing to correctly read the field like he used to, and his accuracy just isn't there. Newton's frustration with his team has also been obvious through facial expressions, which is what people blew up on him for in his rookie year, pinning him as a "diva." All of it has been painful to watch, more so because of how well he had performed just last year.
Newton looks drained on the field. He shows no confidence in anyone other Greg Olsen and, to a lesser extent, Kelvin Benjamin. His offensive line gets him absolutely hammered more often than any other quarterback.
Most QB sacks or hits the past 4 season: Cam Newton 531 Ryan Fitzpatrick 272 Alex Smith 257 Joe Flacco 254

— Adam Schefter (@AdamSchefter) November 13, 2014
The pocket collapses on almost every play, yet people expect Newton to be superhuman. Look at the play below and give me a list of all the quarterbacks that could have escaped that pocket. I'll wait.
That kind of pressure is a common occurrence. The pocket is bound to crumble at least once per drive, it's like clockwork. The constant siege has taken a toll on Newton's pocket presence and mental composure. Below are just a few examples of Newton either poorly reacting to pressure or him making brainless mistakes, both of which are uncharacteristic of him.
In 2013, you would not have seen that sort of panic from Newton. Rather, you would have seen the type of poise displayed in the plays below, when he was putting together a game winning comeback to beat the New Orleans Saints near the end of the 2013 season.
*Pours one out for the old Cam*
I wish the falling off of Newton could stop here, but it does not. More noticeable than anything else, Newton's footwork has regressed. Obviously, since he showed that he can plant his feet right and manipulate the pocket well last season, ability is not the issue. In this case, it is his effort level. Newton does not seem to care about his feet, he has gotten lazy. On top of that, he is playing scared. He does not want to lean into throws because his is terrified of being slammed by opposing defenders, which, at this point, you can not blame him for.
This still gets worse. Below, Newton throws a pass that flies flat. I can not stress enough how rare something like this was in 2013, but in 2014, it's something seen far too often.
Just like in previous years, the rest of the offense has been abysmal, as well. The team has one of the worst rushing attacks in the league, the general handling of Newton and his ability has become terrible, and offensive coordinator Mike Shula is a mess.
The Panthers have been poor at running the ball this season for a couple of reasons. 1) The offensive line quite frankly sucks (I wish that better analysis were needed, but lets not act like there is) and 2) the Panthers have over $10 million invested in DeAngelo Williams and Jonathan Stewart this year ($46.5 million in total), neither of which can stay healthy or are as good as they once were. The combination of the two factors has lead to negative or neutral carries becoming a regular part of the offense. To be fair, other quarterbacks don't have the greatest run support either, so Newton is not a special guy here.
That said, Newton's case is special in that he has to deal with Mike Shula as his offensive coordinator. If people think Todd Haley and Greg Roman are bad coordinators, Shula is even farther down the scale. Shula has stubbornly gone back to using Newton on read-options. Now, this concept is great to use a few times per game, but it has become almost a staple of the offense, and Newton is being forced to take hits.
More infuriating than seeing unnecessarily manufactured hits on Newton is Shula's handling of the red zone. There is zero sense of creativity. His plan is to run the ball down the defenses throat, despite having one of the worst offensive lines in the league. Instead, Shula needs to get Newton on the move more often in the red zone. No, that does not mean designed runs. Rather, it means letting him roll-out, bait the defense into having to contain him, then throw to the open receiver. It obviously is not that simple, especially with Carolina's set of offensive weapons, but Shula is his own worst enemy when inside the 20. And of course, Newton gets the blame.
Nothing about Cam Newton in 2014 reminds me, or anyone, of the same guy we saw wearing No.1 for the Panthers in 2013. As I have been hinting at this whole time, it's because Newton is fed up with everything. He was drafted first overall in 2011, yet the Panthers' front office has made little effort to solidify any sort of concrete talent around him. Because of that, Newton has talent everything upon himself and it is finally taking its toll.
When you take a quarterback first overall, you have to build the franchise around him, groom him, and let him blossom into the player he can be. For the first three years, Newton was a flower blooming in a dark room. His development should not have happened, but it did. For whatever reason, whether it be lack of urgency to help him or putting unrealistic expectations on his shoulders, the Carolina front office has yet to make progress in giving a team to Newton, at least not without taking a step backwards elsewhere.
With all this controversy arising, there has been talk of Newton leaving Carolina. There is not a top level quarterback in recent history who got up and left his team out of frustration, so Newton would be an anomaly. Now, one part of me wants to think that Newton will think everything over, demand more help and a massive contract (he has Carolina by the balls), and end up signing with the Panthers again.
But then again, there is another, smaller part of me that has to think Newton may be fed up entirely and decide to leave. The problem with that is that some teams may be turned away by his 2014 season, as well as the presumed "diva" title that would come with walking away from a team. Due to those factors, Newton likely realizes that staying is his best option.
Everything about the Cam Newton situation is sad, for lack of a better word. It is easy to tell that he is in physical pain as he plays and is far from the same guy has was a year ago. To be blunt, the notion that this is the "real" Newton is wrong. The "real" Newton is a top five quarterback, with likely potential to be the absolute best player in any given game.
Newton isn't "bad" or "done." He is 25 years old and is the most physically gifted quarterback in the league. Right now, Cam just isn't Cam, and that is not his fault. Do not even for one second believe that this is the Newton that is here to stay. Newton has all the natural ability in the world, and he is not going to let it go to waste.
---
---
---