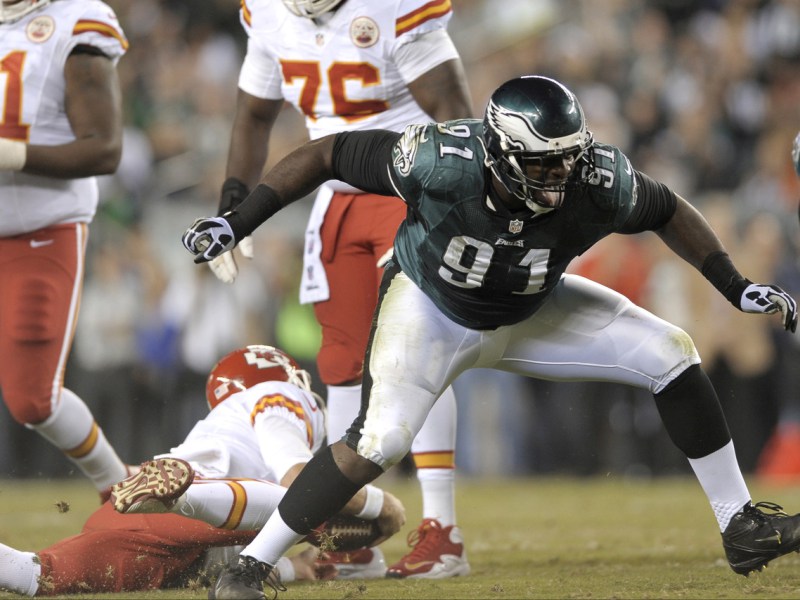 ---
Look around the NFL and it is hard not to appreciate the bevy of talented defensive linemen in today's game. J.J. Watt, Ndndamukong Suh, Gerald McCoy, Mo Wilkerson, Calais Campbell, Dontari Poe, Marcel Dareus, Mario Williams, Jurell Casey and Cameron Wake are all premier players in this league who get praised on a weekly basis for their elite level play, and rightfully so. Even the tier below is filled with stud players like Sen'Derrick Marks, Kyle Williams and Jared Odrick get national recognition. All of that established talent to go along with star rookie defensive tackle, Aaron Donald, and it easy to see how some good players go unnoticed. Well, no longer! Eagles defensive lineman, Fletcher Cox, is not only the best defensive player on his team, but is the most unheralded defensive lineman in the league.
"But Ben!" You say, "How can a former top 15 pick in the NFL draft who only has one sack on the season be underrated?" To that, I say you should not ask such stupid questions.
Fletcher Cox was the 12th overall pick in the 2012 NFL draft as a defensive tackle out of Mississippi State. His freak athletic ability, dominating size and ability to play anywhere along the line was unmatched in that class and I was shocked when he fell to Philadelphia. The Eagles drafted him to patch up the middle of their 4-3, "Wide Nine" defense and give the team a dynamic interior pass rusher.
Cox showed big time flashes over the course of his rookie season, but alas, the team was collapsing around him and a lot of the defense had all but given up. After a disastrous 4-12 season, there was a huge changeover in staff. Chip Kelly came in as head coach and hired along Billy Davis and Jerry Azzinaro, who was the defensive line coach at Oregon during Kelly's tenure, to instill a more multiple defense with a 3-4 base. Many people thought the Eagles would struggle to changeover to a two gap defense and that the promising young one gapping defensive tackle, Fletcher Cox, would have his talent wasted as a 3-4 defensive end. Cox's second season was almost another rookie season, as he had to learn the nuances of a new position, but he continued to show off his big time talent along the way, despite a few bumps in the road. In the team's second season under Bill Davis' scheme, the team can be a lot more flexible as the players are more comfortable with their roles. This comfortability has been exemplified more in Fletcher Cox than any other player.
Through ten games, the Eagles have 37 sacks, 35 QB hits, and 133 hurries (Pro Football Focus). In the entire season last year, they 39 sacks, 64 hits, and 213 hurries. The Eagles have made huge strides up front and are doing a much better job of finishing plays. Now, looking at the box score (as most large media outlets are oft to do), one would say that guys like Connor Barwin, Vinny Curry and Trent Cole are the main reasons for this. Now, wile those are all very good players, they really benefit off of Fletcher Cox's disruption. 
Here, Cox (#91) is wrecking the guard, which forces the tackle to give help, allowing a free run for Trent Cole. The Carolina game was by far Cox's best game of the season, but his teammates numbers benefited more than his own.
Here, Cox is lined up at nose tackle, fights through a double team to flush Cam Newton out of the pocket and Connor Barwin cleans up for a sack.
Here was another game changing play. Cox embarrasses the guard, again, pushing into the backfield and pressure Newton into throwing an interception.
Cox was moved around quite a bit during this game and got a decent amount of snaps at nose tackle. Let us ask Pro Bowl Center, Ryan Kalil how that went…
Welp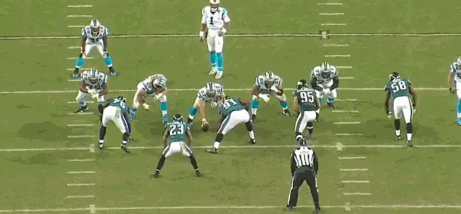 Well. Maybe that did not go so well. Maybe the guards faired better against him? 

That game was the pinnacle of a very good season from Cox, and it displays how dominant he can become. However, this is not the only good showing from Cox.
Here, Cox immediately puts the guard on skates, but Manning gets the ball out quick to avoid disruption. This speaks to another aspect of Cox's game. Not only is he creating opportunities for other defensive linemen, he is changing the way offenses play. When Cox gets going, teams are forced to get into a quick hitting passing game, dinking and dunking to protect the quarterback. In the running game, teams have to run away from Cox or this might happen… 
Of course blocking him might help, but don't tell Ben McAdoo that.
Here, Cox twists, takes on the guard and brings down the running play with one arm. Giants obviously intended to run away from Cox's side, but he is able to disrupt the play through execution and ability.
This is all the flashy stuff you want to see defensive lineman do, but the initial purpose of two gap linemen is to do dirty work and occupy blocks for their linebackers. Like this! 
Cox Draws a double team and give the other linemen one on one match ups, allowing Bennie Logan to make a play.
Here is some more disruption in the passing game during the Jacksonville game.
This play was a touchdown pass to Allen Hurns, but should have been called back due to the guard hanging off of Fletcher Cox.
Here is Cox rushing around the edge, something you do not see a lot of him do. Regardless, he beats Luke Joekel and the offensive tackle is forced to hang on for dear life. (No call, again)
Here is some beautiful run defense from the Jacksonville game. 
What a dominant day he had.
Here is a historic moment in his career (Kinda). Cox's first snap of the year at nose tackle and…
Not sure who that center is, but he is probably in counseling.
So we come back to the main point, Cox's perceived value. He may not have the numbers of the elite defensive linemen in the league, but as Rotoworld's Josh Norris once said, "Disruption is production". The sack numbers will come, but he has the third most hurries on the team, ahead of sack leader, Connor Barwin. He is more than his numbers!
Cox is getting pressure, taking on double teams for his teammates and neutering offensive game plans. Is he a perfect player? Absolutely not. There are times where his pad level is too high and he gets pushed around or he lets offensive linemen get their hands on him too quickly, but more often than not he avoids those mistakes. He is a 23 year old player, is only in his second year in a new scheme and  is as dominant as he is. That is a terrifying prospect for the rest of the NFL. Soon enough, he will go from one of the most underrated players in the league to a premier defender. Let us celebrate with a fat guy touchdown.
Hopefully Philadelphia is smart enough to pay him now before he blows up. At his best, Cox could become an incredibly dynamic lineman for the Eagles who can dominate at any position along the interior defensive line and that is worth more to a defense than anything else.
---
---
---