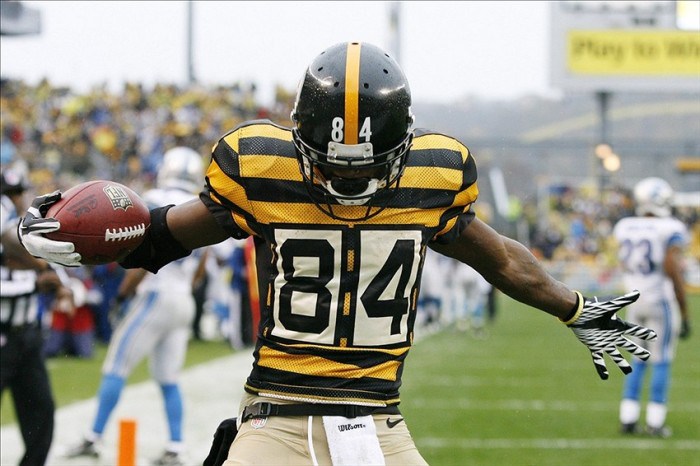 ---
Whew… After six games a night over the past two nights, tonight we close out week one with four final games. If you missed the previews for Thursday and Friday, this format is probably a tiny bit bizarre and you probably won't know what's going on. For each game, I'll link the most official depth chart I can find on the internet (which doesn't mean all that much) and I'll write out three story lines for each team in each game. Each story line has a tacky headline because it's the preseason, where everything is made up and the points don't matter.
Cleveland Browns vs. Detroit Lions  7:30 PM ET
Browns:
Bark for Mingo: New head coach Mike Pettine and second year outside linebacker Barkevious Mingo seem like a match made in heaven. Last year in Buffalo, Pettine's defense's calling card was a relentless pass rush, coming from all angles, by a group of very athletic pass rushers. The good news for Coach Pettine is calling Barkevious Mingo "very athletic" is an insult to Mingo, because it doesn't come close to describing what he brings to the table. Last season, Mingo was the odd man out of a three-man edge rotation, but if we can put any stock in anything from the recently released depth chart (and I'm not entirely sure we can, but I'm going to anyway, cautiously) Mingo is set to be featured as one of two starting outside linebackers, along with Paul Kruger. This doesn't mean Jabaal Sheard isn't going to play a single snap, but this does mean Mingo is going to be somewhat of a key piece for the Browns moving forward, which is good news for everyone except opposing quarterbacks.
Gor-don Not A Part Of The Framily: If suspended wide receiver Josh Gordon does not get reinstated, the Browns are going to be forced to move forward with a cast of pass catchers that led by a Cowboys casualty in Austin, pizza novice in Nate Burleson (you always eat the first slice in the parking lot, not while you're driving) and a guy named Andrew Hawkins, a name that sounds like a computer generated rookie in Madden. As fun as it is to make jokes about those three guys, they're in a very good position to get a ton of targets this upcoming season, and maybe revitalize their career. Or, maybe we'll see a young, hungry receiver step up and become a steady target for whoever is slinging the rock, like maybe a Travis Benjamin or Willie Snead.
Trillbert: Corner back Justin Gilbert comes into Cleveland with a bunch of really talented players in front of him on the football field, but not on the depth chart. The attacking Browns front seven is good enough to limit the expected time the rookie will have to cover his receiver for, and with Joe Haden on the other side lurking, Gilbert will have ample opportunities to earn the nickname "Trillbert", which shall be bestowed upon him if he becomes an interception magnet. Step one for the evolution from Gilbert to Trillbert is earning the starting spot opposite of Haden this preseason.
I felt like you guys have heard enough tacky Manziel vs. Hoyer storylines for a lifetime, so I made an executive decision to leave it out. I am a very serious artist, and the Manziel vs. Hoyer storyline is color-by-numbers. (The last line was sarcasm, just to clarify)
Lions
Is Ziggy the Ansah: Second year defensive end Ezekiel Ansah holds the keys to spark any huge improvements the Lions see this upcoming season, and the preseason can be the perfect launching point for Ziggy to build up confidence moving forward. At this point, the Lions already know what experienced guys like Suh and Fairley are capable of, but with Ziggy the ceiling is unknown. Is what we've seen through one season the tip of the iceberg of what Ziggy is capable of, or is it the entire iceberg? Even with the addition of fellow BYU alum Kyle Van Noy, the potential of Ansah is still the top developing storyline for Detroit moving forward defensively.
Ebron or Ebroff: (This one is really bad, and I love it) A couple of days ago, rookie tight end Eric Ebron was kind of injured at practice (I think he's still playing tonight but I can't guarantee how factual that is, and the only thing I can find on it is people calling him a bust or something) and he was listed as the 3rd TE on the ever influential first depth chart, but where does he really stand? Will he end up spending more time on or off the field this season? Proving he can contribute immediately would be huge for his cause.
Detroit's Golden Ticket: The Lions decided that they finally wanted to put a talented wide receiver opposite of Calvin Johnson, hoping that the addition would allow Megatron to be freed from constant double teams, and decided there was no better option than Golden Tate on the market to do those things. The Lions hope that having a legitimate #2 option will take their offense to new heights, and that Tate will be their golden ticket towards making a deep playoff run. I don't know if this will even be manifested during the preseason, but you're only going to be paying attention to their number one offense anyway.
Pittsburgh Steelers vs. New York Giants 7:30 PM ET
Steelers:
Shiny New Shazier: The Pittsburgh Steelers got arguably the second best defensive player in the draft with the 15th overall selection in the draft, and there is little doubt that Shazier will come out of the gates ready to make an impact. As the off-ball linebacker role keeps diminishing in perceived value, players like Shazier are harder and harder to find. Instead of bulking up too much and becoming an above average edge player like you'd expect most college players to do, Shazier instead put on smart weight and improved his overall athleticism to the point where he can probably hold his own in coverage against some of these athletic tight ends popping up around the league, which is very, very rare. The Steelers are sure to be watching their new linebacker closely this preseason to fully grasp what he can do, and I highly recommend doing the same.
Let The Arrows Fly: New rookie Dri Archer hopes to show some golden flashes for his new team this preseason, hopefully to carve out some opportunities to get some touches in the regular season, but also to build up some hype behind him. With fellow speedy rookie DE'ANTHONY THOMAS' ELECTRIC PUNT RETURN TOUCHDOWN AGAINST CINCINNATI BEING THE NEW BENCHMARK, Archer now knows where the watermark has been set. Because these guys are essentially the same style of player, they're destined to be rivals forever.
Wheaton Is No Teenage Dirtbag: (This reference is going to go over so many heads) 2nd year wide receiver Markus Wheaton out of Oregon State had a virtually invisible rookie season, but now has the opportunity to become the second option on a pass first team, with Antonio Brown entrenched on the other side of the field. Wheaton isn't a physically imposing receiver by any means (that would be Martavis Bryant, rookie out of Clemson) nor is he anyone's athlete of the day, but other wide receivers like him have been Big Ben's favorite targets in years past. If you're looking for a fantasy football sleeper, just keep it moving, but if you're a Steelers fan looking at your offense and wondering who is going to be your most reliable receiver, I don't think you have to look much further than Wheaton.
Giants:
Williams Wows: Rookie Andre Williams was the brightest point for the Giants' offense on last week, and this week provides another opportunity to move up the depth chart and be the rightful replacement to the man, B Jacobs, possibly one of the greatest athletes to ever grace the gridiron. When B Jacobs announced his retirement, I thought I would never see another big running back carry the rock with 4.4 speed and the power of an ox, especially not in a Giants uniform. Then, Andre showed he has the potential to take over the throne.
Awww Jeez: Does anyone else get a Lester Nygaard, early Fargo episode one, vibe from Eli Manning? I feel like Eli Manning could live in Minnesota and nobody would even question if he was originally from there or not.
Awww G's: A second week one preseason game for the Giants, and still no Odell Beckham Jr.? Aw jeez, I'm not sure there is much of a draw to watch this game live for anyone who is not a Giants fan. Is anyone going to trade two firsts for Ryan Nassib?
Green Bay Packers vs. Tennessee Titans 8:00 PM ET
Packers:
Tight Battle For TE: The Packers have no far and away choice for the #1 tight end, so each of these guys is really fighting two battles, once for the spot and one for whether or not this becomes a tight end by committee offense. Richard Rodgers from Cal would be the biggest beneficiary from a TE by committee system, as his blocking ability in college was somewhat lackluster, but his receiving ability was top notch. It's not like the majority of times the tight end ends up blocking anyway.
Peppers — Mild or Spicy: We won't know the answer week one, but we might as well overreact after he plays a drive and puts a visor on, if he even suits up. I don't look at the injury report for the Packers because it's too depressing, so I have no clue if he's even good or not.
Who's Laughing At The End Of The Night: First round pick Ha Ha Clinton-Dix might be making his rookie preseason debut (or he could be out with an injury, because, see above) and he looks to make an immediate impact to the slightly-worse-than-pedestrian-but-slightly-better-than-horrendous Packers secondary (facts only) that could really use a solid safety over the top. The recent history of Alabama prospects has been very hit and miss, which is expected when you have that many high draft picks, so it'll be interesting where Ha Ha lands in the spectrum between Julio Jones and Dre Kirkpatrick / Javier Arenas.
Titans:
Be The Hunter, Not the Hunted/The Wright Stuff: WR duo Justin Hunter and Kendall Wright come in to this preseason as potentially the top two targets in the passing game, but it could be much more than that. They are the gatekeepers to this offense being great due to their playmaking ability that will hopefully be on display tonight, but they could not be more opposite. Kendall Wright is a shorter, more electric receiver who thrives after the catch and Justin Hunter is a long-striding, lengthy athlete with impressive ball skills and leaping ability, as well a knack for making plays down the field.
Whizardry: New head coach Ken Whisenhunt and defensive coordinator Ray Horton look to change the perpetual mediocrity culture that plagued Tennessee the past five years. Whisenhunt brings years of success adapting his play-calling to the strengths of his team. On the other side of the ball, Ray Horton rejoins his old buddy from their Arizona days and brings in a 3-4 defense that actually wasn't all that bad to a team that ran a 4-3 defense that wasn't all that bad. If the Titans just start throwing it every play (or acquire Max Hall), they have gone full Whisenhunt, and you never want to go full Whisenhunt.
Breaking The Rules of Chess: Tennessee's new Bishop needs to move horizontally, not diagonally, towards the starting running back position. Wow, what a bad chess pun. Let me try this again…
McCluster At The Top: Nope… Still don't like it.
Running Back (Jackie) Battle: Nope… This one is just horrendous.
Titans Going Greene: The best pun so far and worst possible outcome for the Titans.
Who Will Croom Groom: Yes! Titans RB Coach Sylvester Croom is no stranger to coaching up successful rushing attacks, having coached guys like Barry Sanders, Eric Dickerson, and Steven Jackson in the past when these guys were actually good. It's almost a safe bet to say the guy he stands by will be very successful, but not if they don't get a chance to run the football.
Houston Texans vs. Arizona Cardinals 8:30 PM ET
Texans:
Clown Question Bro: Jadeveon Clowney doesn't have a nickname yet for some reason (especially when his first name is so tough to spell), and it's about time to give him one. Obviously, I could spend this portion of the preview talking about how good he is at football, but you probably already know that and it's not like you forgot about the first overall pick right before he makes his preseason debut. So mention me on twitter with any good suggestions for Clowney's nickname and I'll use this space to fire off a few that could be either great or awful.
The Wrecking Ball
Nightmare
Express (I know it's taken but so are a bunch of really great nicknames, like The Freak, The Natural, and The Terminator)
The Natural (Don't care that there was a baseball movie about this, it fits)
The Freak Part II
Su'a-Feeling Out Process: Rookie guard Xavier Su'a-Filo out of UCLA is probably the best non-Nuke option to watch when the Texans are on offense, but there might be some wonder out there among the ten people in the world who closely follow offensive lines enough to know how close Su'a-Filo is to being a full-time starter in this league. Is he ready now or is he a year away? The Texans are young enough to be able to wait on XSF if they need to, but nobody ever likes waiting for anything good unless they absolutely have to.
Tom Savage Has No Affiliation With Football Savages: I'm just throwing that out there now. Don't mention us if/when he looks awful out there today. We know. We didn't get the hype either.
Cardinals:
Logan Thomas Looks To Overthrow Competition: He'll probably end up overthrowing his wide receivers instead. If you expect one NFL training camp to totally fix his mechanics, I have a bridge to sell you in Brooklyn.
Downtown John Brown: Feeding off of the Clowney nickname, do all fast wide receivers get the nickname Downtown [first name] Brown? If the answer to that is yes, John Brown will probably have that nickname by the end of the preseason. The deep threat out of Pittsburg State in Kansas has been turning heads all camp, according to practice reports, and hopefully he can blow the lid off of the Texans defense a few times so we know what we're in for.
Defense — Trustable or Combustible: Last year, the Cardinals defense was incredibly solid, but also old enough to appreciate living in Arizona in the winter. Guys like Darnell Dockett, Larry Foote, John Abraham, and Antonio Cromartie aren't exactly youthful at this point of their careers, and the depth behind star corner Patrick Peterson doesn't exactly instill confidence in case of injury, but if everything goes their way and everyone stays healthy, they'll be a force. Therein lies the story line that will continue to drive the narrative of the Cardinals this season: How close are they to watching everything they build crumble at their feet? Trusting football players on the wrong side of 30 is already playing with fire, but the Cardinals aren't exactly in a position where they can afford to wait on others to implode. It's truly now or never.
---
---
---