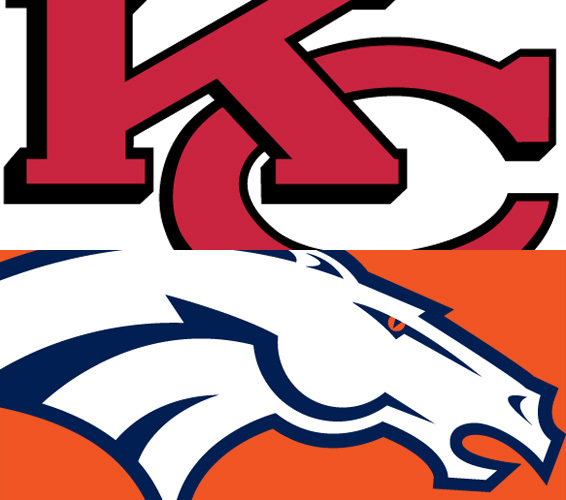 ---
Who have the Chiefs played? Nobody. The answer is nobody, according to everyone who points to the 9 wins they have run off to start the season and picks them apart. The Chiefs have played a ton of backup quarterbacks, none of who have beat them. Sure Alex and the offense have been mediocre, but I ask you this, If Alex was averaging four touchdown passes a game how many more wins would the Chiefs have? Exactly.
Let me give you a homer's view on a few of the things I have heard about Sunday night's game.
The Denver Broncos defense has been as good as KC's the past three weeks: 
What? I have heard every stat known to man saying this. So let me throw out a few and you decide.
In Denver's last three game their defense has given up 37 IND, 14 WAS and 20 SD for a total of 71 points for those who can't add. KC has given up 16 HOU, 17 CLE and 13 BUF for a total of 46 points. Advantage: KC
Denver has 8 sacks to KC's 8. Advantage? Push right? What if I told you KC has 38 QB pressures in those game where as Denver has 51, then the advantage would be to Denver. To be fair that is with 100 pass attempts at KC and 106 at Denver. Neither team faced a great OL so that would be about equal.
Kansas City has scored 2 defensive touchdowns in its last three games. Denver has scored 1. Advantage: KC
KC has 5 takeaways, Denver has 6. Advantage: Push 2 of Denver's came from the Washington game when Mr. WorthAFirstRoundPick Kirk Cousins threw 2 interceptions on 9 attempts. LOL
Denver has given up 929yds and an average of 4.24 yards per play, KC has given up 1,104yds and 6.03ypp. Advantage: Denver
On third down aka the money down KC is 11/37 or 29% while Denver is 18/47 or 38%. Advantage: KC
While Denver is a much improved defense over the past three weeks they are still not as good as KC. As illustrated above KC is still far better in PPG, 3rd% and defensive scores. Denver is much scarier with a better defense and they are trending the right way, that could be a problem for the league.
The Chiefs don't match up with Denver's receivers:
Kansas City comes in sporting a revamped and improved secondary from last year's 2-14 squad. Denver comes in sporting the addition of Wes Welker and Julius Thomas, both phenomenal players. The Chiefs according to PFF have the best pass coverage in football to go with the third best pass rush. With the emergence of Marcus Cooper the Chiefs surprisingly matchup very well. Cooper and Sean Smith, both having great years, give KC tremendous size while Brandon Flowers provides leadership. If you were to play match ups my guess would be, Smith on Thomas, Flowers on Welker, Cooper on Decker, assuming KC tries to man up against Peyton. I could also see leaving Cooper and Smith on their respective sides and letting either one matchup with Decker/Thomas. That would leave Julius Thomas for Eric Berry who is playing at a level this year that shows why he was such a highly regarded prospect. Denver leads the league in yards after catch (188.1) while Kansas City (119.7) does a good job of containing this. The x-factor here is that Peyton Manning is playing some of his best football. Something has to give Sunday night, KC hopes it can get enough pressure on Manning to disrupt him, Denver hopes Peyton continues to roll.
Alex Smith isn't doing enough for the team to continue to win:
This is really an opinion more so than anything that can be backed up by facts. He has an elite player on offense in Jamaal Charles and an elite defense. Why does he need to take chances? Just to appease those who claim this is a new NFL and throwing 50 times with 30 of them deep is the only way to win? Alex is smart, one thing he does not get enough credit for. He knows he has an elite defense, one that is being helped by the offenses ability to hold on to the ball. He force feeds his backs and tight ends and takes what plays are there for him. Jamaal Charles is a talented enough player to carry an offense by himself. My only worry with Alex has been some of the accuracy issues, there have been a few occasions where a more accurate throw would have allowed his receiver to gain more yac, but instead they were slowed down making a catch that shouldn't have been so difficult. As a whole his play has been exactly what this team needs. He has stayed calm in what has been more than a few close games in the first nine. Alex is KC's leader, Sunday night is a huge game but don't expect that to rattle Alex into forcing things. We have seen him in close games, if this turns in to a shootout Sunday night, which I don't expect, my opinion could change.
This game is the premier match-up of the season so far. 9-0 versus 8-1, KC versus Denver, Peyton versus Chiefs D. In order to win this game the Chiefs need to generate a ton of pressure and try to force Peyton into some bad decisions. Marcus Cooper is the player I will watch most on KC's D (besides Poe). Peyton could pinpoint him and attempt to pick on him due to his inexperience. An opportunistic corner who plays the ball, he could make a huge difference in the outcome of this game. My biggest worry is that Denver gets a running game going and forces KC to think too much. If KC can stop the run effectively, it will allow Houston/Hali to pin their ears back and the secondary to make plays. On offense the player to watch for me is Anthony Fasano, he hasn't shown much rust since his return from injury. Denver will be focused on Jamaal for the most part and Fasano will have to get open and make plays to move the chains for the Chiefs O to be successful. Von Miller (shocker right?) is the player who scares me the most on Denver's D. Insert any joke you'd like about his off the field issues, but he is back to his old form with 16 QB hurries in his last 3 games.
Prediction time right? I think the final of this game is in the 24-21 range, who has the 24? Your guess is as good as mine, but in the nature of staying consistent….KC improves to 10-0 and silences the doubters.
---
---
---