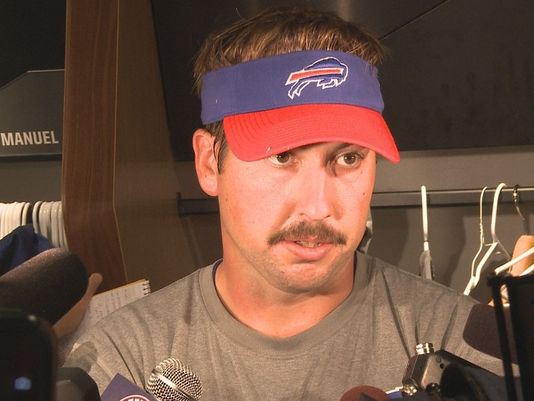 ---
I'm not going to bullshit you here; I'm flat out shocked the Buffalo Bills have a winning record 7 games into the season. To be honest though, fuck that shit! For the last decade all that has really matters is stomping the Jets and Dolphins dicks into the dirt, and let's face it, that hasn't happen as often as I'd like. However, this year, this time, with Kyle Orton as my motherfucking witness the Bills are going to stomp some Jet dick this weekend.
They don't have Fred or CJ you say? Well fuck you I say.
Nate Hackett couldn't figure out how to use a condom if he was in a room full of 3 dollar hookers on nickel beer night. So don't even sweat CJ being hurt. That being said it hurts to lose Fred. Read that back in a sing-song manner and tell me you didn't just smile like a sad clown.
The Jets may only be 1-6, but they have been stingy on the ground. So all this talk about who's going to be the guy in Buffalo is pretty pointless right now. The Jets have given up only 1 TD and just 76 yards per game on the ground. So if you're going to start a Bills RB, it should be Dixon as he'll absolutely be the goal line back.
As for starting a Jets RB, good luck. The Bills defense has been brutalized in previous years, but with this year's DL out there just swinging their elephant cocks around you better not be counting on Ivory. As for "the artist formerly known as Chris "you lost your nickname" Johnson…. Well fuck him. Seriously the only way you're even thinking about starting him is if your 1-4 RBs have been hurt or kidnapped.
Look when it all shakes out, you shouldn't be starting a Jets or Bills RB this week unless your roster is fucked.
This game will come down to the QB, to whichever one has the ability to matriculate down-field without the help of a run game more efficiently than the other.
Bills
Kyle Orton will need to win this game and against the Jets who plate up a QB rating of 108 to opposing pigskin slingers they should win. The Jets have given up 2.5 TDs/game for fucks sake. I expect Uncle Rico to strut for 310 yards and 2 TDs (maybe 2 INTs also), which I think will be enough to beat the Jets.
And how about SAMMY MOTHERFUCKING WATKINS?!?!?!? Fuck Yeah Exclamation Points. Sammy gets more targets with Orton than he did with EJ. The Jets are giving up 166 yards/game to WRs this year, which is middle of the pack (yeah motherfuckers I occasionally dabble in numerology). I don't know the numbers on this next one, but I will tell you, the Bills with Orton, are chucking it to Sammy Watkins more than enough to pay for the WR3/4 value he was drafted at. I expect Sammy to score, and not just with Rex Ryan's wife (they swing, IMO). Scott "Slow Gronk" Chandler also seems like a good bet for a TD, only the Seahawks have given up more TDs to TEs than the J-E-T-S……. JOKES JOKES JOKES.
I'm not mentioning Woods on purpose, but I'm betting on something like 5 for 50 and 1/3 of a TD so do with that what you will.
Boobie Dixon and Bryce Brown have made their rounds on twitter this week. I tweeted last Monday (I think) that Dixon = Jackson and Brown = Spiller. With that being said I'd avoid either of these "sleeper" plays this week. The Jets may suck swamp ass, but they aren't giving up much to RBs and the Bills OL is still a clusterfuck.
Start the Bills defense, both team and IDP guys like Dareus, Kyle, Bradham, A. Williams (as long as they're healthy, you can check on that, I'm too fucking lazy.)
Jets
The Bills DL is going to eat Geno Smith for lunch. Sure the Jets have a strong run game that should help Geno not suck, but the Bills defense has been dick stomping opposing RBs to the tune of 3.2 ypc and ZERO TDs. Forte is the only RB who has done anything against them but even he didn't find the end zone so Chris Ivory and CJ-F..U..C..K will most likely be spending their time fighting not to lose yards.
The WRs will go the way of Geno, which means not very far, even though the Bills have a secondary that has been about as effective playing defense as Kim Kardashian was at not getting pissed on by Ray J.
However, Percy Harvin is difficult for me to figure predict. I want to think he will be eased in with the Jets, starting with special teams and a few plays on offense. But damn it!!! Percy is a guy that can earn his spot in 1 play and the Bills can be torched on special teams. I guess the question is will he earn it this week? Unless he breaks a return I'd say the answer is, "Fuck No."
Look I've said a lot of things here, and to be motherfucking honest the booze is kicking in and I'm getting bored with this.
Bills 24 Jets 13 

---
Editor's Note: Ready to try daily fantasy sports to win cash? DraftKings offers daily fantasy sports for the NFL, MLB, NBA, NHL, and even the PGA.  When you sign up today, you'll get a 100% deposit bonus and a free entry into one of their fantasy football contests when you use the promo code 'SAVAGES'

---
---