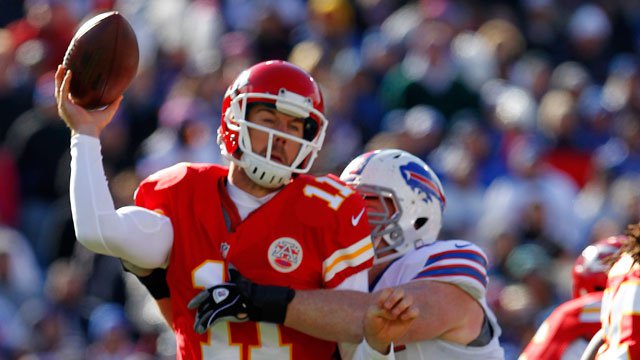 ---
This in the end will be a battle of defenses, intangibles, and elite QBs. For the fans of real football, this is a must watch, tell your grandkids where you were caliber game.  Let me be clear, Legends will be born this Sunday at 1PM EST, 12PM CST, 11AM MST, you see where this is going…… ? This game is going to birth from it's motherfucking loins that which will become Legendary.
Editor's Note: The Bills are 25-19-1 against the Chiefs in franchise history. 4-2 over the last 6 seasons. Take it away, Street.
Kyle Orton – At home as a Buffalo Bill starting QB, Kyle Orton in November is 0-0. That means he is un-got-damn-defeated in his house this month. That is a stat that you cannot deny and therefore must respect. Undefeated is elite. Who the fuck do you think you are?
Alex Smith – How the fuck is your QB wins record at 5-3 this year and you haven't even thrown a TD to a WR yet. That takes a special kind of average. You are elite at being average is what it is. You elite son-of-a-bitch you. Nice work.
Boobie, Bryce, Fred – good luck with this bullshit. If Fred plays you play him, otherwise I'll put good money says no matter who you start the other asshole gets the points.  As for real football, the run game is fucked but Kyle Orton is undefeated for the purposes of this analysis.
C.J. Spiller – This motherfucker masturbates about having Jamaal Charles' career.  I know he's not playing, I just wanted to use that line.
Jamaal Charles – this shifty prick is getting 20+ touches/game over the last 3, and everyone knows people only care about today so 3 games is pretty much all you need to know. Do I give a fuck? No…. well maybe… nah fuck it I don't. Charles will probably have a good game, but fuck him.
Sammy Watkins – Some people see him as a diva, especially after his recent buffoonery. Get in the end zone first Sammy. Only losers and dudes in weird Japanese porn celebrate premature ejaculation, don't be a fucking loser. (note: I think it really was just a one time thing for Sammy… I believe it).
Other Bills WRs – I am Jack's utter lack of… what were we talking about?
Dwayne "Most Receptions for a Chiefs WR of All Time" Bowe – if Chief's WRs are the awkward sweaty kid in 7th grade gym class of the NFL (they are), Bowe is the one that somehow already has a full beard.
Scott "Dollar Store Gronk" Chandler – this lumbering goon will probably score.  The ratio of receptions allowed to TD just seems to perfectly matched up to what Chandler does best. Look it up, this a fucking TE you're not going to start anyway so my research is done here.
Travis "Don't call me Baby Gronk" Kelce –  The Bills have been decent against TEs this year. Only gave up 2 TDs so that's a stat that looks good. Probably, Travis will score so Alex can keep his no TDs to WRs streak alive, and you fuckers think it's an accident. Hah!
Defense — they're both pretty good, which means this comes down to Dontari Poe vs. Marcell Dareus.  I know you brehs don't want to hear it, but tough shit. Marcell > Dontari.
What all this boils down to is….
Bills 20 Chiefs 17
---
---