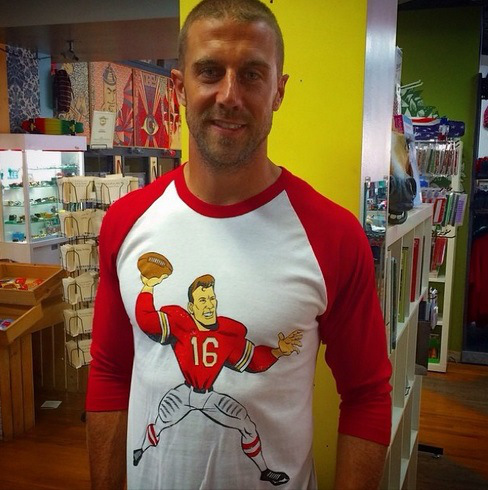 ---
After yesterday's slate of eight games, it's refreshing to only have two today and one tomorrow. All four of the teams in action tonight were playoff teams last season and all have enough depth to keep the games exciting.
I'm writing this for the people who are going to watch the condensed version of the first game because Sunday afternoon football isn't exactly en vogue yet. Also, the headlines for today's action are even more hit and miss than they were previously.
Broncos:
Last Week's Headlines: Ammo N' Stuff / "Practice Was Really Unfair So We Brought In Some DBs" / Sifting Through The Crowd
What's Going Juwan In That Backfield: Rookie running back Juwan Thompson out of Duke was a major star in last week's action, emerging as a serious contender to not only make the roster, but crack the committee that's forming in Denver's backfield. Thompson attacks the hole dynamically and once he hits it, he's can accelerate and gain yards in chunks, which is exactly what Denver is looking for out of whoever is getting carries. He'll be facing a bigger test against a loaded front seven in San Francisco, so that's definitely something to look at going forward. Also, since this is a Peyton Manning offense, he won't get to sniff the field if he isn't a great pass protector and check down option, so keep that in mind as you're watching today.
Roby Rising: Bradley Roby was drafted by the Broncos at the end of the first round to an equal amount of fanfare and confusion. People were looking for the Broncos to address other concerns, but Roby proved too talented to not be the selection and potentially be their nickel corner immediately, and hopefully move outside to guard number ones down the road. The ideal nickel corner in today's NFL is essentially Bradley Roby, and his debut did nothing to dispute that, looking very solid and making plays on the field. He matches up with some very good wide receivers in Santa Clara this afternoon, and that's definitely something to watch when the Niners have the ball.
Norwood Doing Good: Most people expected rookie Cody Latimer to emerge out of training camp as the fourth wide receiver, but journeyman Jordan Norwood out of Penn State has seized the opportunity and looks to be the man going forward in the near future. With Manning looking to spread the ball around, any progress Norwood makes now will be repaid in the future in actual regular season production.
49ers:
Last Week's Headlines: The Redshirt Rookies / Blaine Gabbert / (Carlos) Hyde Yo Kids, Hyde Yo Wife
Nowhere to Hyde: If you're a defensive back and Carlos Hyde is barreling towards you, you just gotta pray. The second round selection out of Ohio State was very impressive in his preseason debut, toting the rock in a way that would make every single defensive coordinator wish that running backs like Hyde were truly going out of style, once and for all. Hyde represents so much more than just a running back, he's a workhorse in a league that no longer sees the need for workhorse running backs. In a way, Carlos Hyde is battling for every young power running back coming up that's seeing the position drug through the mud and sent out back to await it's foregone destiny.
Tank The Tank: Redshirt rookie Tank Carradine looked outstanding last week, terrorizing whatever quarterback the Ravens put out in front of him and looking like he didn't miss a single beat, let alone an entire season, from his old college days when he was an absolute terror. Platooning defensive linemen is all the rage right now, and if Carradine keeps this up, the he's bound to get meaningful snaps in the regular season.
Blame Gabbert: Y'all scored 3 points last week and I think I can point out where it all went wrong. I wonder if Jags fans will add an addendum to evenifhesreleased.com covering that they in fact do not want him in Duval either.
Chiefs:
Last Week's Headlines: Front Seven Heaven / #BELIEVEDAT! / Get It Right, Get It Tight
#MATCHDAT: ROOKIE RB/WR/KR/PR DE'ANTHONY THOMAS WASTED NO TIME PUTTING HIS MARK ON LAST WEEK'S GAME WITH AN EXPLOSIVE PUNT RETURN THAT MADE GROWN MEN CRY. THE QUESTION IS DAT, SINCE I KNOW YOU ARE SITTING IN THE LOCKER ROOM READING THIS, IS HOW ARE YOU PLANNING TO MATCH THAT? WHAT DO YOU GOT UP YOUR SLEEVE AND ARE YOU GOING TO SAVE ANYTHING FOR THE REGULAR SEASON?
Whew: If you read my preview last week, you were watching Travis Kelce and Demetrius Harris tear it up and you were probably like, "man, Jake was all over that in his prediction. It's like he knew." Well, I'll one up it this week and call for Albert "Bert" "O'Boy O'Berto" Wilson to have a big game and cement his spot on the final roster. Also, Catapano debuts today.
EDIT: Both Mike Catapano and Albert Wilson were late scratches for tonight's action. 
Kniles Davis > Miles Davis: I know it's Knile Davis, but if you're complaining, why do you hate fun? He's a fun player to watch as well, since we're on the subject, and he's carving out a niche for the regular season by showcasing his abilities this preseason.
Panthers:
Last Week's headlines: Will Benjamin Catch On / Disruption Is Production / Who Emerges
What A Tangled Webb We Weave: Joe Webb, QB turned WR turned QB turned WR now back at QB, was the best rushing threat the Panthers had, and he looked good at throwing the football (relative to what he normally does). Is he also a reserve wide receiver for when Cam's back? Also, is Cam back soon? I miss him.
Hitting The Wall: What happened when anyone not named Joe Webb carried the rock, Panthers fans? I know nothing did, but I'm all for theories of them sandbagging or whatever you got.
A Series Of Uneventful Events: I don't remember much of anything about the Panthers-Bills game last week (a phenomenon known as the Bills Effect) and I'm not sure if that's a good thing or a bad thing. I'm sure I'll be able to gather more from this game, but still, Carolina, you're better than this. Go do great stuff.
---
---
---